Bridal Shower Favor Ideas
A bridal shower is such a festive occasion and a great time for ladies to get together and celebrate. The bride is likely in the thick of her wedding planning, and so the shower offers a nice and welcome diversion. What you give out as favors at a bridal shower can really help to make it memorable. Guests will be sure to remember the beautiful shower that they enjoyed for years to come if you give them that perfect little favor
to take with them.
Keep With the Theme
If the shower is centered around a theme, then by all means keep with that. If you have asked guests to bring gifts for certain rooms of the home for example, then by all means give them the same kind of token to take. Giving out a beautiful and luxurious bubble bath, soap, or bath salts can be not only a nice way to remember the shower but a great way for them to relax when they get home.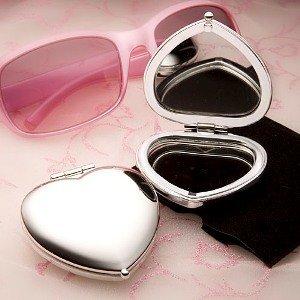 If keeping with a kitchen theme, give out cookie cutters shaped like hearts or perhaps a jar of brownie or cookie mix that you create and they can use to make a delicious treat.
If the wedding or theme of the shower is centered around an island or tropical theme, then give guests beautiful sea shell decorations or perhaps a beach towel that you have their name engraved upon.
Pick Up on Special Cues or Accents
If the bride is into a favorite color or they are doing their home in a particular color theme, then let that be what the favors are centered around. Go for a blue and chocolate brown assortment of jellybeans in a decorative tin. Give out a pink little notebook and pen to carry out the color.
You can also tie into seasons or holidays if they happen to be pertinent to the timing of the shower. A pumpkin scented candle surrounded by a mini autumn wreath is a nice favor to celebrate that fall time of year. If it's in the spring, consider giving each guest a mini watering can and some seeds that they can plant in honor and memory of the shower.
Go for the Basics
If there are no particular colors or theme to tie your favors to, then by all means go for the tried and true. You can give out picture frames, candles, compact mirrors, potpourri, cookies, or candies as these are not only traditional and popular, but also useful. Make them look like gifts by tying a colorful bow to them or incorporating a picture of the happy bridal couple to be.
You can always go the traditional route with the favors that you give, just be sure to tie in your own little accent to make it that much more special.