Food Favorites Made Over for Parties
Some of our favorite foods are difficult to translate into party-sized portions.  Have you ever tried to eat macaroni and cheese while standing up?  How about a full-sized hamburger?  It isn't easy.  If you want to serve some of your favorites at your theme party, but want to cut down on the mess, here are some ideas for how to do it.
Mini-Mess
Here are some ways to make smaller versions of some of your favorite foods.
Hamburgers: These are easy.  The new trend is to make "sliders," which are, essentially, miniature burgers.  Just buy Hawaiian rolls (small sandwich buns), and grill smaller burgers.  You might want to use a toothpick to hold the sandwiches together.  You can garnish with an olive or pickle on top.
Miniature quesadillas: Use round cookie cutters to cut out circles from tortillas.  Fill two rounds with some cheese, chopped onion, and a piece of shredded chicken.  Spear the centers with toothpics so they're easy to grab.
Miniature cupcakes: Make these the same way you make your regular cupcakes, but use a miniature muffin tin
.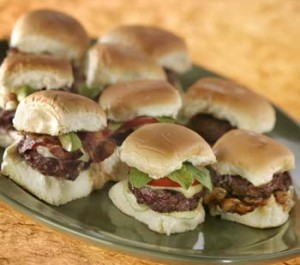 Try these delicious
Guinness Sliders
, courtesy of Kegerators
Easier to Eat
Some favorite foods are easier to consume at parties if they're packaged differently.  Here are some ideas to make cupcakes less messy, soup a super-duper party food, and other mini-food ideas.
Cupcake sandwiches: It is much easier to eat a cupcake when the icing is in the CENTER, as opposed to on top of the cupcake.  Yes, this isn't quite as pretty, but it is much less messy.  If you're packing cupcakes for a picnic, this is a must-use technique.
Soup shots: Serve a chilled soup like gazpacho or roasted asparagus soup in shot glasses.
Mini Pots de Creme: Shot glasses are also useful for making miniature cheesecakes, carrot cakes, key lime pie or creme brulee desserts.  Just make sure that you have miniature spoons on hand for eating.  (Another idea–use ceramic Japanese soup spoons
and build the desserts in the spoons.  They can go in the oven, and they are a serving container and utensil, all in one!)
Hopefully, those ideas will make serving your favorite party foods a little easier!