Baby Superhero Party Ideas
Do you feel as though your baby has super powers? Many parents feel the same way (even if it's something super in their diaper!) and therefore this can lend itself to a perfect theme for your little loved one! Whether it's a shower that you want to be superhero themed or a first birthday party to celebrate your little darling, this can be a fun idea to center around. So long as you focus on a character that is appropriate for a youngster, you can really enjoy this type of theme for a party.
Superman, Wonder Woman … or Wonder Pets!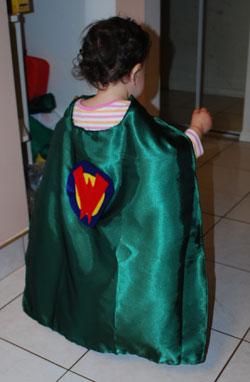 Depending on the gender of your little darling, you can really have fun if you center around a particular and very famous character. If it's a boy then going with the Superman theme always works well. If it's a girl then try Wonder Woman or Supergirl. Not only can you get invitations, decorations, and all of the accessories in this theme, but you can even dress them up. There are some adorable costumes out there that are perfect for the little boy or girl in your life.
Or, for superheroes that your babies may feel more attuned with (if they watch the Nick Jr. channel) is the ever adorable Wonder Pets! This was the theme for one of our daughters, and we went onto Etsy and had somebody craft Wonder Pet capes.
Whatever you choose, you will likely find costumes that keep with theme but which are more catered to the younger set, such as a pink comfy Super Girl bib or Superman pajamas. This is easy to pull off and fun for even the youngest of guests.
Create Your Own Superhero
One of the things that many parents like to do when they celebrate a superhero party for the young set is to develop their own little creation. Start with a onesie or cute outfit and then partner it with tights, no matter what the gender. Then get a tiny little mask and cape to finish off the look. You can decorate your party venue with pictures of the little one in superhero costumes. Consider having a little spot where guests can get their picture taken with the mighty "mini superhero" so that they have a remembrance of this adorable and fun occasion.
Go for a Conglomeration
If you aren't sure what superhero theme works best for your little one, then go for a little combination type of theme. This can work particularly well for a baby shower where you know that superheroes will be the theme of the nursery. Look for invitations and decorations that feature favorite superheroes or some that are a bit more obscure. This can make for the perfect theme and is an easy way to bring it all together. You don't have to pick just one, no matter what the occasion. Superheroes always make a perfect theme, and by going with a combination it can work for a baby shower or the most discerning infant taste!