Backyardigans Party Theme
Can a party in your own back yard be "unique-wa" and fun? Sure – if it's a Backyardigans theme party! Preschool kids love these CGI cartoon animal friends from Nick Jr. who use imagination to transform their own back yards into exotic, historic or humorous locales. Choose the right invitations, party decorations, party favors and foods to make a little magic – right in your own back yard!
Party Invitations
Print out or purchase invitations with the Backyardigans (Pablo, Tyrone, Uniqua, Tasha and Austin) shown on the front. As these fun characters love to go on adventures, think of a cool background for them to appear in (if you're printing them out), such as an asteroid with robots, a jungle, a Western, superheros, etc.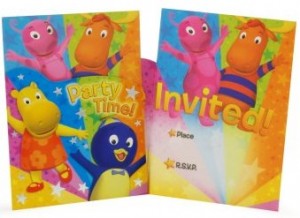 Add a cute line or two, such as "Join us for some Backyardigan fun" or "It's an adventure in (child's name)'s back yard. Come to our Backyardigans party. They'll be snacks after!"
Send the invitations to arrive a week or two before the party date. Here's a quick rule of thumb for preschool-age children's parties: Invite one friend per the child's year (in other words, four children for a four-year-old's party).
Decorations and Food
Obviously, holding the party in your back yard is ideal. If you're uncertain what the weather may be like, consider renting an inexpensive tent from your local party rental shop.
Choose an "adventure" and decorate the back yard to follow that theme. For instance, if your little party "Backyardigans" will be imagining a Wild West theme, hang dollar-store cowboy and cowgirl hats around the area and serve southwestern snacks, such as nachos. Or try a desert island theme, with lots of luau- and summer-style decorations, with punch, fruit and shiskabobs as snacks.
Set the party table with Backyardigans cups, plates and forks, or choose bright Backyardigans colors for the tablecloth and tableware. You can find these at a variety of places, or look online at Amazon
or Celebrate Express.
Party Music
Music is a huge part of the Backyardigans show. Usually, each show contains one genre of music, such as disco, Motown or even reggae. There's singing and dancing throughout the show, illustrating a dilemma, conflict or solution during their adventures (often with a humorous bent.) Amazon has a large selection of Backyardigans music
to choose from.
Pick music that matches your theme; see if you can find children's versions of the songs so kids can join in – and not just from the show. For a Home on the Range, western or camping theme, for example, try VeggieTales or spooky Campfire Songs For Monsters (this song book is geared towards older kids, though.) Any sort of music will do, so if you have some old CD's stacked somewhere that fit your theme (country music for a Western theme, or Reggie for an island theme), bring them on out.

Games and Activities
Keep things simple for youngsters who are looking to have a good time without too many complex rules to keep track of.
Race Around the Globe: The Backyardigans "Race around the world" and explore virtually every part of the globe. Create a "map" in one area of the back yard with each of the continents drawn on construction paper and cut out. Prop them up or glue them to sticks and stand them up in various locations. Then have guests run races two at a time to get back "home" from the starting place.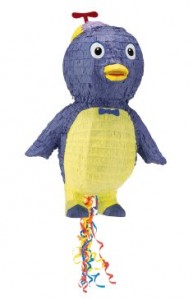 Backyardigans Musical Chairs: Choose music from various Backyardigans episodes. Gather children around a set of chairs, with one chair less than the amount of kids. Turn your back and play the music, then randomly stop it at any point. Children must scramble for a chair. As each child is "out," hand him or her a small consolation prize to avoid tears – a piece of candy is fine.
Don't Drop the Coconut: Choose this for a desert island/tropical theme, or replace the "coconut" (be sure to select something light, like plastic, or soft) with an object that matches the theme of your party. Have kids toss the object around in a circle. Children are "out" as they miss a catch.
Pull the Pablo Pinata: Okay, not a game, but it's always fun for all kids to pull together on a pinata! Pablo pinatas are available online, with a hidden sticker to put in the little treats and toys.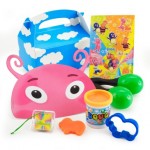 Goodie Bags
Send children home with goody bags – these are a must for this age group. Instead of the usual candy, though, remember that the Backyardigans is all about adventures. So pack away some fun items that your party guests can make an adventure with! Either include trinkets based on the theme party (Sherrif's star for a Western theme, eye patch for a pirate theme, etc), or just include an assortment of imagination starters. Some ideas could include:
Pirate eye patch
Play dough
Toy maracas
Small space ship or robot
a black superhero mask
Have a great adventure in your backyard! (Even if you have to imagine it's a backyard!)