Skull and Crossbones Pirate Party
Arrrr, Matey! Plan a Skull and Crossbones Pirate Party for the sea-faring and sword-bearing swashbucklers in your midst.  With the popularity of the Pirates of the Caribbean movies, pirate parties have long been all the rage.  Here's how to throw a party so fun, you're guaranteed not to have to walk the plank.
Salty Invitations
If you elect to go with printed invitations, rather than electronic, here are some fun ideas for pirate party invitations.
Message in a Bottle or Message on a Bone
You can make a message in a bottle by using rinsed out, clear water bottles that are fully dry.  Add some sand, a few small shells, a couple of pennies (Gold coins!), and this message on a slip of paper inside:
Ahoy thar Mateys!
Ye`re invited t'a pirate party
(date, time and location)
Take Note Ye Scalliwags…
Dress like a buccaneer if ye dare.
We have PRIZES fer best pirate costume.
Or, you can write the same message on a fake plastic bone (get a fake plastic skeleton, and take it apart to make the invitations).
Talk Like a Pirate
To help your party guests get in the mood, include a pirate-speak glossary along with their invitation. (Avast! Did you know there's an actual "Talk Like a Pirate Day?")
Avast! – stop and pay attention, or "Look at THAT!"
Aye! – Yes, or uh huh!
Aye aye! – I understand, and I'll do it.
Belay – To immediately cease or stop. Usually used in a disgusted context such as "Belay that landlubber talk!!"
Bilge rat – Insult
Booty – Pirate valuables
Colors – Refers to the pirate flag
Davy Jones' Locker – Where the souls of drowned pirates go.
Grog – Pirate drinks
Hearties or Matey – Shipmates or friends.
Motherload – a lot of something
Smartly – Do something fast
Shiver me timbers! – Pirate for "Well, I'll be" or "Is that so?". Originating from when a cannon ball hits a ship and the planking shatters into splinters.
Show a Leg! – Phrase to wake up a sailor. "Show a leg!, it be dawn, you scurvy lubber!".
Sea-worthy Activities
These pirate party activities are guaranteed fun for everyone.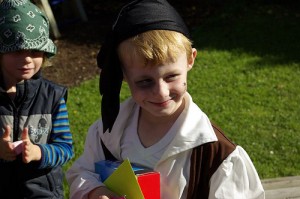 Photo by
Samuel Mann
, Flickr
Scavenger hunt (of course): This hunt can take place throughout the house, or neighborhood.  You can hide treasures for everyone to find, or hide clues that lead to a big treasure (like a copy of the Pirates of the Caribbean DVD for all guests).  Another fun way to organize a scavenger hunt is to have participants take pictures of certain items or landmarks around the area.  Because most everyone has a phone with a camera these days, that's pretty easy to do.
Watch Pirates of the Caribbean Movie: If the pirate party is a sleepover, this movie is a good bet for late entertainment.
Charades: Participants will re-enact pirate scenes and words.  Here are some ideas:
Walking the plank
Shivering me timbers
Mermaid
Pegleg
Firing the canon
Sword fight
Pegleg Pirate Three-Legged Race: Divide participants into teams of two.  Then, tie the right leg of one to the left leg of the other.  Line everyone up at the starting line.  The teams have to figure out how to "walk" with "three" legs instead of four.
Cannon Ball Toss:  Fill black water balloons.  Then, line people up in pairs across from each other.  After every successful throw, everyone has to take a step back.  The last ones with an un-broken balloon win.
Decorations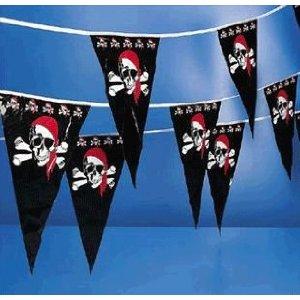 Turn your living room, basement, or spare room into a pirate's den.  Here are some must-have pirate decorations:
Fishing nets – hang these from the ceiling, and put plastic or paper fish in them
Pirate plank – create an area for people to have their pictures "walking the plank."  Use a 2×4 board and some cinder blocks.  Make construction paper and tissue paper "waves" under the "plank."
Plastic skeletons – order these online, or find them from a party store
Pirate hats – These look particularly great when resting atop the head of a skeleton.
Treasure chest: Make your own treasure chest by decorating a box.  Don't forget the top! or, if you're handy, make a REAL pirate chest!
Black crepe paper: This will add an eerie touch to your pirate decor.
Black balloons: Ditto with black balloons.  You can never have too many black balloons at a pirate party!
Ship's wheel – Make your own, or fined one online.  You can make a ship's wheel out of plastic piping that you spraypaint brown, or out of an old cardboard box.
Food That Won't Give You Scurvy
Pirates need lots of treats to keep their energy up for sword fights and rowing the pirate ship – and oranges to stave away scurvy. Here's what to serve at your pirate party:
Pirate booty – popcorn, peanuts and m&ms mixed together
Pirate Parrot Wings – chicken wings (try pineapple mango for a Caribbean theme!)
Pirate ship sandwiches – submarine sandwiches with pirate flags sticking out of the top, and pretzel "oars"
Landlubber grub – veggie tray
Scurvy shakes – milkshakes made from milk, vanilla ice cream or orange sherbet, bananas and orange slices

Pirate Party Booty
Create a treasure chest of goodies for your pirate mateys.  Add these items to your pirate party goody bags:
Pirate Eye patches
Temporary tattoos
DVDs of Pirates of the Caribbean
Water guns
Chocolate gold coins
Skull and cross-bone bandannas
Hoist the Jolly Roger, and have a wond'arrrrrrrr'ful time at your pirate party!