Fourth of July Kids Activities
Celebrate July 4th with fun activities and crafts for kids.  Here are some ways to put sparkle in your celebration, without handing your kids tubes of fireworks.
Pretzel Sparklers
To make two dozen, place 4 ounces chopped semisweet chocolate in a heatproof bowl set over a pan of simmering water. Stir the chocolate occasionally until it has melted  then, remove from heat.
Give each child a pretzel rod and let them dip it in the chocolate, then roll the rod in sprinkles.
Allow the pretzels to sit upright in a glass to dry, then eat!
Star Garlands
Cut out different sizes and colors of stars (blue, red, white, silver, gold) and glue them onto a red, white or blue ribbon.  Use a flat ribbon, and glue stars on both sides.  Then, hang the garland around the door, window, or party table!
Fireworks Paintings
Materials
Acrylic paint
Drinking straw
Paintbrush
Paper (or card stock)
Water
Instructions
For each color, in a paper cup, dilute some acrylic paint with water to a runny consistency.
Using a paintbrush, drip a few drops of paint onto a piece of paper or card stock (be sure to rinse the brush between colors), then hold a drinking straw directly over each puddle of paint and blow gently to create a spectacular starburst effect.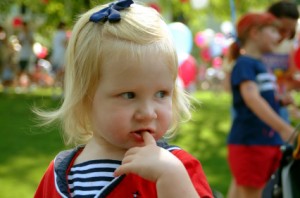 Flag Tag
Materials
Buckets of sand
Small American flags
Instructions
To set up the race, divide the group into 2 teams. For each team, place a bucket of sand filled with small American flags (1 per teammate) on the opposite end of the yard.
When the race starts, the first child  from each team races to the appropriate bucket, plucks a flag, and marches back to his team as quickly as possible (no running allowed!) to tag the next person.
The game continues in this way until all the members of one team have returned to the starting line with a flag in hand. The first team to finish should win a small prize, like bubbles for everyone.
Play "The Stars and Stripes Forever" and other July 4th music while the race is happening.
Fireworks Balloons
To make these fun, non-flammable fireworks, pull a red, white or blue balloon over a funnel. Pour in red, white and blue confetti until the balloon is a quarter full (while deflated); Then either inflate with a hand pump, or blow up the balloon. Use a sharpened pencil for popping.  (Pop where you're happy to have a lot of confetti!)
Stars and Stripes Windsock
Glue patriotic paper around a  frozen juice-concentrate container, making sure that the paper extends a few inches beyond each end of the can.  Then, tape or glue crepe paper streamers to the inside of the paper.  On the inside of the can, tape fishing line or ribbon on equal sides of the can so that the windsock will hang evenly.  Hang from a tree or the front porch for a patriotic welcome.
I hope these ideas help out with your Fourth of July party, and have a great celebration!