Take your guests on an exciting adventure to Shanghai, Bangkok, Hanoi, Seoul, Singapore, Tokyo and beyond with this fabulous Asian theme party!
Invitations
Write the invitation details as a tag to attach to a teabag.
Insert a paper cocktail umbrella in your invitation.
Type your invitation on a long slip of paper and insert it into a fortune cookie. Cover with bubble wrap and mail in a small box.
Write your invitation with an Oriental-style font.
Encourage guests to come dressed in Asian attire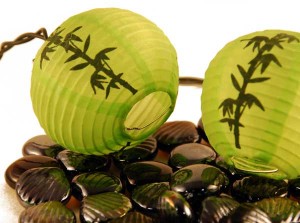 Décor
Use cardboard to create a pagoda or temple shape and paint it red or gold and add to the top of your doorway.
Ask guests to remove their shoes upon entering your home and give them Chinese slippers.
Party hosts should dress in Oriental-inspired attire to immediately make guests feel transported to a far off land.
Oriental-themed items – a Buddha, vases, dolls, kimonos, statuary, etc. to add ambiance to your "pagoda."
Fill vases with Chinese Lantern flowers – an orange-colored blossom you can often find in the dried flower section of your craft store. Apple blossom blooms and bonsai tree will also give a feeling of Asia.
Hand fans and paper parasols will provide instant images of Asia.
Tabletop fountains with an Oriental feel will give your home Zen serenity.
Fill your ceiling with paper lanterns or string lanterns onto strands of white lights.
Recycle appropriate red and gold Christmas items – the colors of good luck and prosperity in Chinese culture.
Meal Service:
The best part of this party is that you can easily use takeout menus from your favorite Asian-style restaurants to cater this party.
Use takeout boxes or Asian-inspired paper goods to serve your guests.
Serve food to guests from lacquered or bamboo trays.
Sake (rice wine, slightly warmed) can be the signature drink at this party, or serve Oriental teas.
Offer chopsticks to guests (but have forks on hand for the less adventurous).
For sit-down dinners, paint your guests' names on the handles of hand fans to serve as a favor, place card and décor.
Honey cakes and fortune cookies will be a sweet ending to your meal service.
Entertainment:
Invite students from a local karate or judo school to do a demonstration.
Play traditional Chinese music in the background.
Study how to make some simple origami birds and teach your willing guests. This will serve as an activity and take-home favor.
Test your guests' dexterity by having them try to pick up a single grain of rice with chopsticks.
Research how to write words like "Love," "Happiness," "Prosperity" and "Good Fortune." Then see how well your guests can duplicate the writing.
Create similar stunts as seen on Japanese game shows.
Host this party in conjunction with showing a movie with an Asian locale such as "The Karate Kid, Part II," "Crouching Tiger, Hidden Dragon," "Eat Drink Man Woman," "Lost in Translation," "Teahouse of the August Moon," "Memoirs of a Geisha," and so forth.
Oriental Favors and Prizes:
Anime comic books or cartoons
Lacquer chopsticks
Japanese Dolls
Hand fans
Parasols
Fortune cookies
A selection of teas
Mandarin hats
Bottles of sake (rice wine)