To party and beyond! Invite Woody and Buzz Lightyear over for a birthday party for your little Toy Story fan. Odds are, of course, your child probably loves characters from all the versions of this adorable story line (like Woody, Buzz, Potato Head, Rex, Jessie and newcomers Big Baby, Bookworm and Stretch). With the 3rd movie out (and in 3D!), these beloved characters are back, and bigger than ever. Here's what you'll need to know to pick out (or create!) the best decorations, party supplies, cake, invitations, games, gift bags and favors.

Playful Party Invitations
Invitations for Toy Story 1, 2 or 3 are easy to find. Save yourself some aggravation and pick up a pack of invites, then let your child help you fill them out.
If you have some extra time on your hands, go ahead and create the invitations yourself. Here's some wording that can make the birthday invitations fun (and Toy Story-approved):
Howdy Partner! Let's wrassle up some fun at (your child's)'s birthday party on (date)!
Come to Pizza (and Fun!) Planet for a great celebration!
To Infinity…and Beyond! The party takes off on (date) at (time).
Fun 'n Games…You're invited to (your child's name)'s birthday party. Come join the fun!
Add a few stickers (let the party boy or girl help with this) and mail the invitations to arrive two weeks in advance of the party date.

Party Décor
Decorating for a Toy Story party is easy. Because the entire theme of the party is playful and childlike, and the characters are familiar toys, simply add bright-colored supplies, streamers and balloons. Add a toy box with Toy Story characters (found pretty well everywhere) for the kids to play with. You can also involve these toys in games.
Draw or print out a sign that says either AL'S TOY BARN or WELCOME TO PIZZA PLANET and hang it about the doorway. Other decorative touches can include anything from the series – traffic pylons (from near the beginning of the second movie, when Buzz had to rescue Woody), Mr. Potato Heads, traditional plastic green army figures, cowboy boots, stuffed animals, dinosaurs … basically, any traditional toy will work!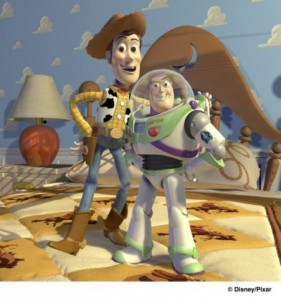 Toy Story Party Games
Have some games and activities to keep your guests occupied and to keep the party hoppin'. Here are a few ideas:
Have a Toy Story character pinata.
Hand out Toy Story coloring books and crayons.
Play "Marco Polo" (either in the pool at a pool party, or outdoors) using the words "Howdy" and "Partner" instead of "Marco" and "Polo."
Gather wearable cowboy hats, a yellow Sheriff's badge and other items and allow kids to play dress-up.
Mr. Potato Head Race: Using two or more Mr. Potato Head dolls, have guests race each other to see which can put the parts in the correct places the fastest.
Pin the Star on Sheriff Woody: Freehand (or print out in sections and tape together) a large image of Woody from Toy Story. Cut out a star pattern and then use it to make enough sheriff badges for each guest to have one. Number the front of each star; on the back, place double-sided tape. Have guests take turns blindfolded to get the star in the right spot!
Party Food
Keep party foods simple. A Toy Story decorated cake is a must, of course. As an alternative, you can offer cupcakes. Decorate your cake with plastic Toy Story figures you can later use as party favors.
Because of the Pizza Planet theme in the first Toy Story, pizza is an obvious and very easy choice. Look around online or call your local pizza joints to find out who has deals on more than one pie to keep the expenses down.
Another fun food idea is a camp fire foods theme. Serve hot dogs, s'mores and corn on the cob.
For drinks, juice and water will ALWAYS trump soda for a young children's party. They'll never miss the sugar amid all the fun!

Party Favors
Buy party boxes or bags, or make your own, and fill them with any of the following:
stickers
temporary tattoos
foam gliders or other small "retro"-type toys along the lines of Toy Story
backpack clips
a few pieces of candy
And that's it. Party perfect! Enjoy it—this is one of the most fun themes you can pull together and that your child can enjoy.