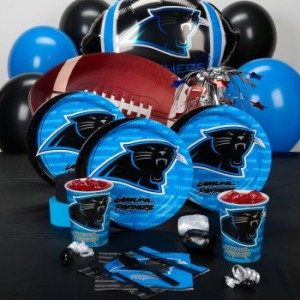 Caroline Panthers party supplies, available at
Buycostumes
Have a Carolina Panthers party and celebrate football season!  The Carolina Panthers are based in Charlotte, NC and play in Bank of America Stadium.  Their team colors are turquoise blue, silver and black.  Their mascot is Sir Purr, a friendly black panther.
To host a fun Carolina Panthers football party, plan some authentic North and South Carolina touches.  (The Panthers are a team beloved by both North and South Carolina, as Charlotte is near the border of both states.)
Here's how to have a fun Carolina Panthers football party.
Invitations
If the Panthers are playing at home, make invitations that look like white football jerseys.  (In the warmer fall months, the Panthers wear lightweight, white jerseys because it is HOT in Charlotte.)
In the winter or for away games, make invitations that look like darker turquoise football jerseys.  Bank of America Stadium is open-air with live turf.  In the summer, it is hot, and it stays fairly warm into the fall.

Party Decorations
Football parties are the most fun when you go all-out with the decorations.  Balloons, crepe paper, football-themed plates, football-themed centerpieces and tablecloths are all must-haves at a football party.  Stock up on black, white, turquoise and silver balloons, crepe paper and party goods.
Find a football pinata and some noise makers to round out the party decorations.

Carolina Foods
Add some authenticity to your Carolina Panthers football party by serving traditional Carolina foods.  Here's what should be on the menu:
Sweet tea
Carolina barbecue (chopped pork with a red pepper/vinegar sauce)
Boiled peanuts with hot sauce
Sweet potato fries
Roasted peanuts
Fried chicken
Potato salad
Hoppin' John (rice, beans and sausage)
Pepsi
Pickles
Carolina Panthers Traditions
Part of a fun football party is traditions, games and fun in addition to what is going on during the game.  Here are some Carolina Panthers traditions to have at your party.
Sweet Caroline: This Neil Diamond song is played at the stadium after every home team victory.  Regardless of whether the team wins on the day of your party, be sure to close out the party by playing a rousing sing-along version of this song.
Growl Towel: A white towel with the Panthers logo on it that fans can wave in the air when the team scores.  Provide one for each of your guests.

Carolina Panthers Party Activities
Aside from watching the big game and eating all kinds of yummy North Carolina food, there are some other fun activities you can play during the game.
Pin the City on the Map: Yes, this might sound dorky, but why not get a map of North and South Carolina, blindfold everyone and let them try to pin Charlotte on the map.  That's where the Panthers play. Great if you have a wee little Carolina fan.
Cornhole: This is kind of a modified version of bean bag toss.  Each corn hole board has one hole in the top of the board.  Bags landing on the board are worth 1 point. Bags that make it into the hole are worth 3 points.  Each team gets to throw four bags.  Points from each team cancel each other out.  If both teams get one bag in the hole, those are canceled out.  First team to 21 wins!
Football Ring Toss: Hang a hula hoop from the trees and try to throw a football through the hula hoop.
Even though the Carolina Panthers are one of the newest NFL teams, there are still plenty of fun traditions and activities for your Carolina Panthers party. Have fun!