Spicy Party Fiesta Recipes
Spice up your parties with these hot pepper recipes! From gumbo to chili to fresh, home-made salsa, there's a party recipe for anyone serving something hot for any type of celebration.
First, learn the differences in heat between all of the different pepper varieties. A Scoville unit is used to measure the hotness of a pepper. As a comparison, original Tabasco sauce is around 2500 units.
Types of Hot Peppers
Mild Peppers – 100 – 2500 units
Pimento – Also known as cherry peppers, also used in mild salsa
Banana – long and yellow in shape
Poblano – 2000 units – heart-shaped, when dried it is known as the Ancho chili
Anaheim – commonly used in mild salsa – those grown in New Mexico tend to be hotter
Moderately Hot Chile Peppers – 2,500 to 5,000 units
Cascabel – bell-shaped (thus their name, Spanish for "Little Bell"
Chilaca – often used in sauces. The Pasilla is the dried form of the Chilaca
Jalapeño – versatile, used in sauces, salsas, chili or eaten raw. The Chipotle is the smoked form of the Jalapeño
Hungarian wax – great for pickling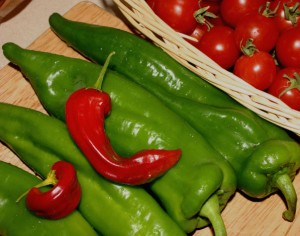 Hot Hot Hot Peppers – 25,000 units to 1,000,000

Cayenne – long pepper – fiery when red – used in Cajun recipes
Serrano chile – a more fiery substitute to the Jalapeño – often eaten raw by those who dare
Pequín – small, red peppers that pack a powerful punch
Thai – used in spicy Southeast Asian curries. Use sparingly!
Scotch bonnet – A relative of the hotter habanero, it is used in Caribbean and jerk recipes.
Habanero – Intense pain! We're talking up to half a million units here.
Bhut Jolokia – Grown in India and Sri Lanka – At nearly a million units, it's so hot, it's used as a weapon and an alternative to tear gas. Traditionally, it's used in homeopathic stomach remedies. (A remedy? Really?)
Chili Pepper Recipes
Creole Gumbo
Makes 6 Servings
1 eggplant
2 tsp Salt
3 tbsp Olive oil
1 onion, chopped
1 red pepper, seeded and diced
1 garlic clove, crushed
2 tsp paprika
1/2 tsp chili powder
4 oz fresh okra, diced
1 can corn niblets
2 cups chicken stock
1 8 oz. can crushed tomatoes, with juice
2 tbsp long grain rice
8 oz peeled and cooked thawed shrimp
Cut the eggplant into 1 inch cubes and sprinkle with salt. Leave for five minutes, then rinse it in water. The salt will soften the eggplant and draw out the water. Heat oil in skillet and add eggplant cubes, onion, red pepper and garlic. Stir for five minutes. Add paprika and chili powder and cook until it smells good!
Add okra, corn, chicken stock and tomatoes. Stir in the rice, cover and simmer gently for 25 minutes or until the veggies and rice are tender. Add shrimp to mixture and heat through 5 minutes, stirring ocasionally.
Jalapeno Pepper Jelly Appetizer Spread
This really simple appetizer is good to have on hand if you need to take a dish to a gathering.
Soften one block of cream cheese. Pour one jar of Jalapeno Jelly on top. Serve with crackers or chips.
Here's a great recipe to actually make Jalapeno pepper jelly.
Texas Chili
Texas chili is spicy meat chili without beans or tomatoes.
Serves Six
3 lb chuck beef stew meat, fat trimmed
1 tbsp minced garlic
1/4 cup chili powder
1 tsp red pepper flakes (add more if you want it spicier)
2 tbsp quick-cooking tapioca
1 tbsp oregano
1 tsp cumin
2 cubes beef bouillon
1 tsp black pepper
2 cups beef broth
1/2 medium onion, finely chopped
optional garnishes:
Add all ingredients to the slow cooker crock and mix well. Cover and cook on low for 8 hours.
Stir chili well before serving, and offer with sour cream and a wedge of lime for a traditional Texas garnish.
Garden Fresh Salsa
Ingredients:
3 tomatoes, diced
1 small onion, diced
1 Jalapeno pepper, diced (leave the seeds in if you want it spicy)
1 bunch cilantro, chopped
1 clove of garlic, minced
Juice from one lime
Mix all ingredients together and serve with chips. If you ever vacation in the Caribbean or Mexico, make sure to go to a restaurant where the server makes salsa at your table. Nothing is more delicious!
Garden Fresh Guacamole
Ingredients:
3 ripe avocados, mashed
Juice from one lime
1 Jalapeno pepper, minced
2 cloves of garlic, minced
1 tomato, diced
1 onion, diced
1 tbsp of sour cream
Mix all ingredients together. Keep covered until serving.
Stuffed Jalapeno Peppers
24 jalapeno peppers, pickled or fresh, hot or mild to taste
3 oz. cream cheese, softened
3 oz. cheese spread
1/4 c. well-crumbled blue cheese
2/3 c. chopped pecans
Cut jalapeno peppers lengthwise in half, removing seeds. If using pickled peppers, drain them and pat dry.
Combine cheeses and nuts. Fill the cut jalapeno halves. Chill, lightly covered, an hour or so before serving.
Armadillo Eggs
Ingredients:
1/2 pound shredded jack cheese
1/2 pound shredded Cheddar cheese
1/2 pound hot sausage
1 1/2 cup pancake mix or, make it yourself
1 egg, beaten
1 package Spicy Shake N Bake, or make it yourself, adding 1/4 teaspoon cayenne pepper
20 jalapenos
Directions:
The peppers can be fresh or canned – drain if canned. Substitute for milder cherry peppers if you wish.
Slice the peppers in half lengthwise down one side, not cutting all the way through, and scrape out the seeds.
Take out 1 large bowl and 2 shallow bowls. Mix the pancake mix, sausage and cheddar in the large bowl. Place the beaten egg in a shallow bowl, also put the Shake N Bake or your homemade spice mix (which I prefer) in a shallow bowl.
Stuff each pepper with shredded jack cheese, then stick the halves back together.
Grab a handful of the sausage mixture and wrap it around the pepper, forming it in the shape of an elongated egg.
Dip it in the egg bowl, then roll it in the spice mix and coat it evenly.
Place on a greased baking sheet. When the peppers are all ready, bake at 350F for 25 minutes or until crisp.
Have a delicious and spicy party! For more novice guests, have milk and yogurt ready to kill the burn. Liquid antacids, a pinch of salt in the mouth, and chewing on bread or soda crackers will also do the trick. But nobody will need any of those … right? *grin*