Dinosaur Birthday Party Theme
Journey back to the Jurassic age and invite a bunch of awesome dinosaurs into your house! If your little boy or girl loves dinosaurs, have a dinosaur theme party for their birthday. From the fiercesome t-rex to the horned triceratops and the spikey stegosaurus, every kid has their favorite lizard. Here are all the best ideas for dinosaur décor, invitations, games and activities, party snacks, the cake and much more.
Party Invitations
Dino party invitations are so adorable! You'll find plenty of T-Rex, triceratops and brontosaurus ideas online. Choose from premade invitations or personalize dino clipart printables with your own text, such as:
It's a MONSTER of a dinosaur party!

Something cool is hatching…A party just for (your child's name)! (HINT: For this type of invite, print on regular paper so the invitation can be rolled up. Then place it in a plastic egg with some rock candy for a "dinosaur egg.")
Do the Dino Stomp…play and romp…it's a party for (your child's name)!
Don't be extinct…join the party at (your child's name's) house!
Prehistoric Supplies and Decorations
When it comes to supplies for your child's dinosaur party, should you make, or should you buy?
For a dino birthday party, we'd recommend purchasing some fun themed supplies such as plates, cups and napkins, the tablecloth and a centerpiece, all with images of dinosaurs. You could also go with solid "dinosaur colors" such as browns, greens, blues and yellows.
Then add individual "flavor" to your party by making a few great creations. Blend easy and time-saving purchases with home-made creativity and fun your child can be proud of.
Print out or draw your own images and place them on the walls of the party area with double-sided removable tape.
Try these ideas to draw: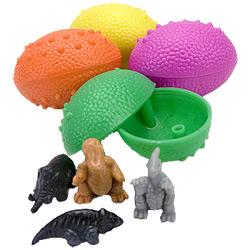 Jungle "grass"; vines; prehistoric-looking trees
A huge volcano with overflowing lava
Giant eggs: print out oversize "dino" eggs; use magic markers or crayons to give them fabulous and otherworldly egg colors, such as green or purple
Dinosaurs: Apatosaurus; Tyrannosaurus rex; Brontosaurus; Stegosaurus; Pterodactyl; Velociraptor
Tiny mammals: make "generic", prehistoric-looking ones…rodent-like features work well
Along with balloons and streamers, have a few "dinosaur nests" (you can buy wooden wreaths at any craft store), and place some dinosaur eggs within. These can be given away as prizes or at the end of the party.
The Party Cake
Make a dino scene easily on the birthday cake by using white frosting and sprinkling it with cocoa powder. This will give a "dusty" look. Create some peaks and "mountains" out of globs of icing. Then place small plastic dinosaurs on the cake. These can double later as party favors!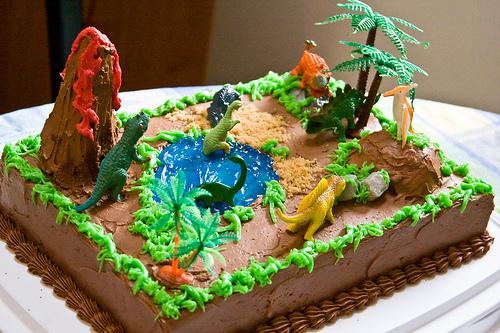 Dinosaur cake, by
Roland
at flickr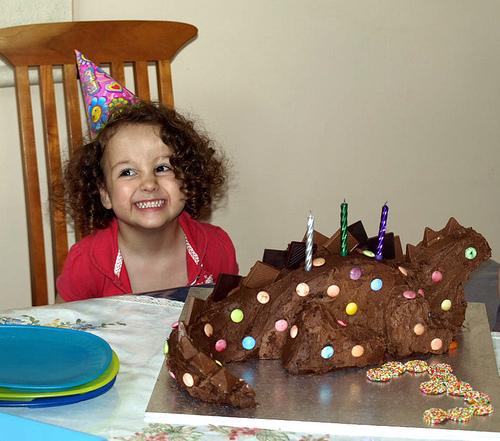 A happy birthday girl with a very awesome stegosaurus! Photo by
berrimbillah
at flickr
Dinosaur Food and Beverages
Pudding "Dirt Cup": Spoon cooked instant chocolate pudding into plastic cups. Top with crushed Oreo cookie crumbs for "dirt." Add a few gummy worms.
Dino Cookies: You can find dinosaur-shaped cookie cutters at most party supply stores. Cut out dino shapes and bake…it couldn't be easier.
Gummy Candies/Rock Candies: These come in dinosaur or dino egg shapes; ask your local store, or check online.
Green Punch: Green seems to be "the" color when it comes to dinosaurs, perhaps because of the perception that their scales and skin looked like those of today's lizards. Make a punch of clear-colored fruit juice, a clear bubbly soda (such as lemon-lime) and drops of food coloring in blue and yellow (add slowly, a drop at a time).
Party Activities and Games
Don't forget the fun!
Perhaps the coolest idea for a prehistoric party is to make "dinosaur fossils."
Ingredients:
1 cup used coffee grounds
1/2 cup of cold coffee
1 cup of flour
1/2 cup of salt
Wax paper
Mixing bowl
Dinosaur cookie cutter
Mix together the coffee grounds, coffee, flour and salt. Knead into a dough and spread the dough onto the wax paper. Cut out impressions of dinosaurs with the cookie cutter (or freehand it if you're extra-creative). Allow the cutouts to sit overnight to dry. The bury them in sand (you can find sand at any crafts store) and have kids "dig" for fossils during the party with spoons!
Another fun activity is to have face painting or temporary tatooing. Be sure to choose paints that are non-toxic and washable. Have a few easy sketches of prehistoric images (like dinosaur eggs, a volcano and an "easy" to draw dinosaur, like T. rex) for kids to choose from.
Be sure to send each child home with a box or bag of party favors. You'll be the hit of your child's class with this popular party theme!