Easter Bunny Themed Party for Kids
Life is just
ducky
at Easter!
Make Easter one to remember with fun Easter activities before and during the big day!  Here are some fun activities for the youngest egg-hunters.  Plan to enjoy these Easter crafts, games and activities leading up to and on Easter.
Decorating Easter Eggs
Dyeing Easter Eggs is fun, but can be EXTREMELY messy, and not that easy for younger children.  You can still decorate Easter Eggs with the little ones, though.  Gather these supplies:
Hard-boiled eggs
Washable paint or washable markers
Googly eyes
Glue
Glitter
Spread some newspaper on the table and let the kids go to it!  The googly eyes are fun to decorate an Easter Egg and make it into a little Egg-man or Egg-woman.  (Googly eyes make everything fun.)

Decorating Cookies and Easter Treats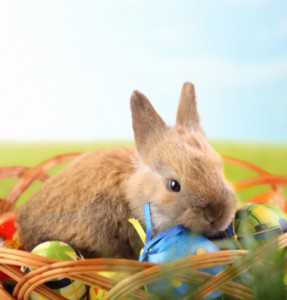 Kids love to decorate sugar cookies.  You can make your own or buy some un-decorated Easter cookies: eggs, bunnies, and chicks.  Here are the supplies you'll need for cookie decorating:
Sugar cookies
White icing
Food coloring
Sugar sprinkles
Red hots
Jelly beans
If you're baking your own cookies, wait until they are cool and then spread them out on pieces of waxed paper, or on flat paper plates.  Mix different colors of icing by adding ONE DROP of food coloring to 1/2 cup of icing.  Give the kids plastic spoons to spread the icing. Sprinkles in a shaker can are easier for kids to use.  Jelly Beans or Red Hots can be the eyes of the little animals.  Let the icing on the cookies dry a little bit before covering them.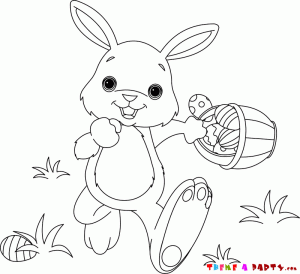 Click picture to download for your game
Pin the Egg in the Easter Bunny's Basket
This makes a fun post-Easter Egg Hunt activity. Just find a picture of an Easter Bunny online, with a basket, or get a wall-hanging, and tape it up on a wall or door. Make eggs out of paper with glitter decorated on it (this can be another activity the kids can do beforehand.)  Place a loop of tape on the back, blindfold them with a bandanna and turn them loose. (Just be careful to watch them so they don't knock into anything while blindfolded!)  Have a prize ready for the child that places the egg closest to the basket where the eggs should go.

Easter Bunny Houses
Where do bunnies live? Underground, in dens, of course!  The Easter Bunny is no different!  Help kids make their own Easter Bunny house.  Gather these materials for your project:
Boxes (shoe boxes, hat boxes, or boxes of similar size)
Fake grass (either plastic or paper)
An empty toilet paper roll
Plastic Easter Eggs
Plastic or stuffed Easter Bunny (small enough to fit in the house)
Cardboard
Tape
Construction paper
Markers
Paint
Old butter tubs
Here's what you're going to do:
Turn the box on its side so that the open side (top) is actually the side.
Cut a hole in the top, and put the toilet paper tube half in the hole and half out of the box.  (This is the bunny "air hole and door)
Encourage your kids to glue the grass on the "top" of the box, around the air hole.  Remember, this is an UNDERGROUND den.
Then, on the inside of the box, help the kids create an "Easter Bunny Living Room" with the various materials. (Butter tubs make good tables.  Small boxes would make a good couch or chairs.)
When the "Bunny House" is done, give each child a little stuffed bunny, and they can move the Easter Bunny in!
Each of these crafts will help the Easter experience last longer than one day, and provide Easter memories for the whole family. Enjoy the day!