Horse Themed Party for Girls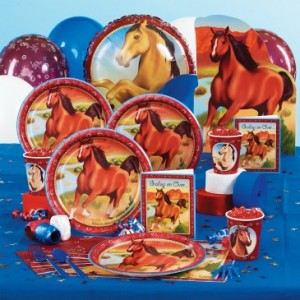 Horse themed party pack
Giddyup and get ready for a horse-themed birthday party! Almost every little girl is horse crazy, so all of the cowgirl guests are guaranteed to have a good time.  Here's how to turn your back yard into a dude ranch, your dining room into the hay barn, and your party girl into a cowgirl!

Pony Express Invitations
While you might not have access to the actual Pony Express to deliver your invitations, you can create a cute invitation like this for your guests: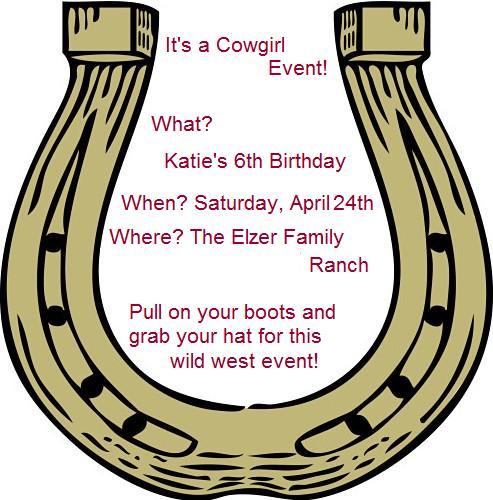 Remember, whenever you use a horseshoe, it should always be turned up like a "U" for good luck! Turn it over, and your luck will fall out.

Horse Party Accessories
It's really fun to decorate for a horse themed party.  Options abound to carry the them all the way through the paper goods, decorations and party props.  Here are some ideas: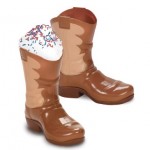 Get started with the Horse Power Party Deluxe Pack.  It makes gathering horse-themed plates, cups, napkins, balloons and more, easy.
Then, stock up on horse-related party props.  A Mylar balloon in the shape of a horse adds a special touch.  Tie the horse balloon so that it floats above some multi-colored latex balloons, and it will look like it's jumping! 
While a horse pinata gives new life to the expression "beating a dead horse," chances are your six year old isn't thinking about that.  And, everyone loves pinatas! 
Serve root beer floats in campy western boot cups (see image on the right). They make a fun party favor, too!
Give each cowgirl her own cowgirl hat when the party starts.  Then, mid-way through the party, let the girls decorate their hats, adding their own cowgirl flair.  Stock up on feathers, glitter, foam shapes, and more to glue onto their hat.
The icing on the cake is a cake in the shape of a horseshoe!  You can make your own with a special horseshoe cake pan.
Wild West Decorations
The party supplies above will give you a flying leap into a fantastic horse-themed event.  Here are some other ideas for horse themed party decorations.
Hay bales around the backyard:  if you're eating picnic-style, you can use hay bales as seats, or as decor.
Decorate your front door as a stable door: cover the bottom half of your door in brown wrapping paper and draw wood "boards" on it.  Turn the top half into a window.  Add a "hay net" (can be found at any tack shop) and a water bucket at about waist level (don't fill the bucket!).
Create horse "stalls" in your hallway, or near the kitchen or other rooms by creating "stalls" like the front door.  Add "horses" to the stalls by tracing horse silhouettes onto poster board, cutting them out and taping them into the stalls.
Hang horseshoes over the doorways of your house where the party will take place.
Horse Party Games
There are some old favorites and new ideas in this list of horse party games.
Pin the tail on the horse. Naturally!
Beanbag toss (this is safer than a horseshoe toss!)  You can toss horse bean bags into a corn hole type game with horseshoes ringing the holes.
Horse, horse, pony.  Play this game the same way you'd play "duck, duck, goose!"
Horse tail tag.  (Similar to flag football, but one person is "It!")  Everyone else wears horse "tails" that will easily come off if tugged.
Stable Snacks for your Horse Party
Feed your hungry cowgirl with horse-inspired treats and snacks. Horses like to eat healthily, so serve your hungry party goers apple slices and carrot sticks, two favorite horse treats! 
Here are some other party snacks:
A western-themed party calls for hot dogs, baked beans, and root beer floats
Serve a horseshoe shaped cake, or little cupcakes  with horse themes for less mess
S'mores are a fun cowboy treat, too!