It's Spring! Tips for Hosting Your Child's Party Outdoors
Spring has sprung, and your kids are probably anxious to rush outside and play, play, play. Take advantage of this active time to host your child's party outdoors. Here are a few pointers to keep in mind.
Where to Have the Party
If you have plenty of back yard space at your own house, host the party right at home. In some ways, things can't be easier; there's no transporting of food and most of your guests probably already know where you live (particularly if they're your child's school chums).
If you just don't have the room, don't despair. Call your city's Parks and Recreation department and find out which local parks welcome parties and whether you must call ahead to reserve picnic tables. (Be absolutely sure you take this step; you don't want to arrive at your own party only to find that someone else had the same idea!)
Another outdoor party idea is a theme park. If you have a Six Flags, an outdoor petting zoo, a train ride, etc. that operates locally and is relatively inexpensive, check it out. Make sure it's a location that's easy for guest to get to, and as always, ask about group rates.
Keep Decorations Disposable and Easy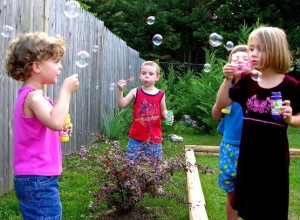 Don't bother with regular dishes or silverware. Instead, go disposable. I'm big on recycling, but for this one day out of your year, if you find plastic works better, go for it.
I find plastic or paper plates, paper cups and plastic forks and spoons work great. So does a paper tablecloth. If it's for a birthday party, look for birthday party theme kits
to get everything you need at once.
Paper decorations are also ideal simply for their light weight and portability. Choose easy centerpieces that match your party theme and have plenty of balloons on hand for decorations.
How Many Guests Should You Invite?
How many can you handle? Be realistic when making up your child's party guest list. The usual rule of thumb is one guest per your child's age in years (so if she's turning six, you should invite six guests).
On the other hand, if you're sure a number of parents will stay for the party to help chaperon and if you have a big, wide-open space that can accommodate a number of kids, you might want to bump that number up a little higher.
Be sure to keep in mind that you will need to fit ALL your guests, parents included, into an alternate space should weather be inclement, which leads us to…
The Forecast Calls for WHAT?
Bummer—the morning of the party has arrived, and the first thing you're greeted by is a clap of thunder and that telltale patter on the roof.
What now? Well, if you're smart, you've planned in advance for this possibility. Spring, though beautiful, can be fickle in many areas, which may experience either rain or a very late snow on the Big Day. Be ready with one of these contingencies:
If you have a big house and don't mind it being crammed with lots of rained-out revelers, make your own house the in-case-of-rain contingency.
Rent a party tent. You'll be surprised how economical this can be.
When choosing a park, find a locale that has some sort of cover over a number of picnic tables, such as canvas or wood roofing.
Choose guests you know will be flexible and have an alternate date ready if you were going to be hosting the party at an adventure or theme park.
"Borrow" your parents', cousin's or sibling's house for the party location if they have more room AND if you know children are generally welcome there. If the "sure" you receive in reply to your request is hesitant, make other plans.
In many ways, outdoor birthday parties are more fun than any other kind. There's plenty of room to run, play and have a great time without worrying about knocking over furniture or getting fingerprints on the walls. Do consider this choice if you're planning a spring party for your child. It's a great experience and loads of fun!