Cinco de Mayo Ideas for Kids
As a Southern California resident, I've partied out to Cinco de Mayo (the fifth of May) many times…so I'm looking forward quite happily to this year's big bash. My non-Mexican heritage children are, too.
So what's the fuss about, anyway? And what can you do to involve your kids (and yourself!) in this fun and fabulous fiesta? Read on for tips on including your little muchachos in the celebration.
Teach Them About the Day
First of all, your children may be curious as to what this Cinco de Mayo actually is. Contrary to a popular misconception, it isn't Mexican Independence Day (that's Sept. 16). Cinco de Mayo began as a regional celebration based on the 1862 Battle of Puebla, in which French invaders were ousted by a much smaller but very gutsy battalion of Mexicans.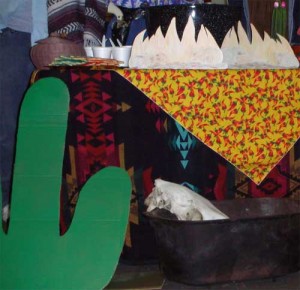 It doesn't matter whether your family is of Mexican heritage or not; everybody loves a great underdog story, kids included. This story of a small force with big spirit will really speak to your little ones.
Get Crafty
If your kids are anything like mine, there's no holiday too small to warrant a whole slew of crafts. And Cinco de Mayo crafts tend to be everything kids love: easy but impressive-looking, very colorful and fun to make.
Paper Plate Maracas:
You will need two paper plates per maraca (any size); a palmful of dried beans or rice per maraca; crayons, markers, glitter, glue and/or stickers; six pieces of crepe paper per maraca for streamers (4-6" in length); a stapler with staples.
Have your child decorate the outsides/backs of two paper plates with the markers, stickers and whatever else he'd like to use that's handy. Staple the six streamers next to one another to what will be the bottom of one plate. Place the beans or rice on the inside of the same plate. Place the other plate on top and staple these together.
Crepe Paper Flowers:
You will need multiple colors of tissue or crepe paper, scissors and green pipe cleaners. Here's a quick tutorial on how to make your folds, but your kids can come up with their own designs easily by crushing the paper, making a twist at the bottom and then twisting one end of the pipe cleaner around the bottom to hold the "petals" in place.
Now You're Cookin'
Another way to get your kids into the spirit of celebration is to make Mexican foods with them. Try rice and beans, tacos, nachos and even sangria without the alcohol for a kid-friendly treat (substitute grape and raspberry juice for the alcohol in the recipe).
Pinata: Your Cinco de Mayo Party Must
What's a Mexican party without a pinata? Burros
(donkeys), star shapes
and sombreros
(wide hats) are traditional pinata shapes. Look for for pre-made, unfilled pinatas and buy plenty of goodies to pour inside.
At your party, blindfold each guest, lead him toward the "victim" and have him take three swings, then pass along the bat, baton or stick to the next person. Even grownups will love this activity, but let the kids take their swings first (of course!).
Feliz Cinco de Mayo, mis amigos!