Race Car Party – Rev Up Your Engines for Fun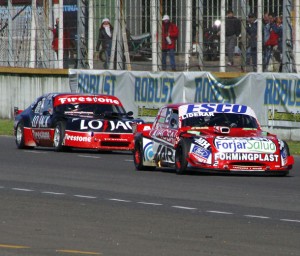 Invitations
Add race car clip art to your invitation stock and attach or insert an old car key (or a toy key) to the invitation with a note – "Here's your key to a super race!"
Encourage guests to come dressed in either racing gear or wearing a tee shirt and/or hat of their favorite driver.
Where to Hold Your Party
While you can certainly host your party in your family room, it would be a lot more fun to host it (weather-permitting) in your driveway, a local race courses a parking lot, a garage, a car dealership or any other car-themed venue.
Décor
Besides race party-themed products
(checkered flags, themed party goods, pennants, etc.), use any type of auto parts and supplies you have on hand (spare tires, old batteries, tools, car jacks, etc.) to decorate your space and give it a pit stop feel.
Entertainment
As pre-race entertainment, rent (or borrow from the library) movies like "LeMans," "Grand Prix," "Talladega Nights," "Days of Thunder", Pixar's "Cars" for the younger crowd, or any other race-themed movie.
Print out the names of all of the racers and have guests score who will win or who will come in first, second and third place. Then, after the race, give the winner(s) who guessed correctly a race-theme prize.
Set up your guests into teams and have them assemble a model car. The team who finishes first wins a prize.
Get toy cars and have guests try to get their car across the finish line first.
Of course, be sure you have a big screen TV (or multiple TV sets) to ensure no one misses a minute of the action.
Refreshments
Label your refreshments after famous drivers – Richard Petty Pizza, Mark Martin's Martini, Jeff Gordon's Gumbo, Greg Biffle Buffalo Wings and so forth.
Mark your bar with a sign that reads "Fueling Station."
Don't forget traditional champagne, beer and bottles of milk to mark the celebration.
Serve drinks out of a new gas can.
Use a new (or very clean and newly painted) hub cap as a tray for hors d'oeuvres
Party Favors/Prizes
Checkered flags
Tickets to a local race
Gift certificates for an oil change
Race car-shaped candies
Gift certificates for a car wash
Keychains