Ideas for Mother's Day Brunch at Home
Mother's Day should be a special day for Mom.  You can go out to eat, like everyone else, fight crowds, and enjoy general hassle, OR you can plan a super fun Mother's Day brunch at home, and plan a meal, crafts, and activities for Mom and the whole family.
Mother's Day Brunch Meals
Mom will enjoy a scrumptious meal that she doesn't have to cook.  There are lots of yummy foods that taste great, look pretty, and aren't complicated.  Here are a few recipes:
Banana Bread French Toast
Beat three eggs and a cup of milk together. Add a dash of cinnamon.
Slice the banana bread in 1/2 inch slices, dip in the egg and then fry in a skillet.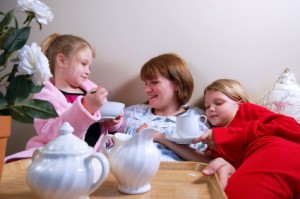 Ham, Egg and Cheese Fritatta
Separate the egg yolks and whites from 8 eggs
Beat the whites with a hand mixer until they're stiff
Beat the yolks until blended, and then fold into the egg whites
Pour in an oven-safe skillet
Sprinkle with cheese and ham pieces
Cook on stove until the egg separates from the pan
Bake in oven on 400 degrees for 15 minutes
EAT!
Fruit Parfait
This is one of the easiest foods, ever, and little kids can help prepare it!
Layer fruit, yogurt and granola into a parfait, pint or juice glass
Garnish with an edible flower or sprig of mint and serve with a long spoon
Homemade Mother's Day Gifts and Treats
Before the day gets going, bring mom a decadent mug of hot chocolate, or her favorite coffee as breakfast in bed.  If she enjoys reading magazines, pick out a new selection of her latest favorites, and bring those to her, too!  While she's resting, cook some scrumptious recipes from above to serve her.
Take the kids out into the yard, and let them pick a bouquet of flowers and greens to decorate the breakfast table.  While you make the eggs or french toast, have the kids make homemade cards from construction paper, stamps, stickers and crayons.
During breakfast, make sure that everyone goes around the table (once or twice or three times!) and tells Mom why they love her so much.
These treats and activities will help you and your kids show Mom how much she means on Mother's Day!