Spring Fever Ideas for Kids
Doesn't spring just make you want to fling open the windows and celebrate?  When you live in the frozen tundra of the north, the arrival of spring, signaled by the joyous melting of snow, is a major cause for singing! (Well, if life were a musical, it would happen.) 
Here are some activities for celebrating spring fever:
Make a Mud Parfait
Cut the bottom off a two-liter bottle and rim the edge with tape so it doesn't cut anyone.  Then, let your kids run around making their own "mud parfaits" by filling up the bottle with alternating layers of mud, sticks, pebbles, and leaves.
Play in the Sprinklers
It won't hurt to run around int he water ONCE before it's really hot out.  If you're worried about getting chilled, put everyone in rain coats, then turn on the sprinklers and go crazy!
Serve Dinner Outside
It's warmer at lunch or (early) dinner than for breakfast.  Pack a picnic and go to the park, or picnic in your own backyard. Make a fun fizzy drink for the whole family with fruit juice and sparkling grape juice.  Add a cherry for flair!
For dessert, make mud pie. (Edible mud pie, that is.)  A cookie crust, topped with chocolate pudding, and lots of chocolaty sprinkles and crumbles is a decadent and dirty treat.  For even more fun, add gummi worms!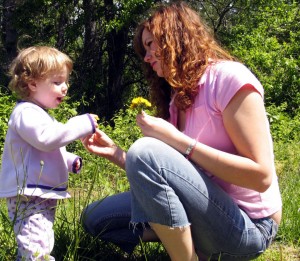 Hang some Wind Chimes
You can buy lots of melodic chimes at home and garden centers.  OR, you and your children can make your own out of forks and spoons from the thrift shop or second hand shop.  Some wire, fishing line, and colorful beads, and you're in business.
Plan a Scavenger Hunt
This is good for teams of parents and kids.  Make lists of things for teams to either find and bring back, or photograph on a camera phone or digital camera.  Choose spring things like:
An apple or cherry tree flower
The first new leaf on a tree
Maple seeds (helicopter seeds)
A migrating bird
Spring bulbs (daffodils, tulips or crocus) peeking up out of the soil
Make Sun Pictures
You can buy special photo paper (called solar prints)
that lightens in the sun, or you can use regular construction paper (but the weather has to be nice and dry for several days).  Put interesting objects on the paper and then set it out in the sun.  After a few hours, the paper around the objects will fade, and you'll be left with an imprint of the object. Leaves of different shapes are especially good for this!
These are sure-fire ways to enjoy the spring.  If nothing else, just GET OUTSIDE!