April Fool's Day Party Pranks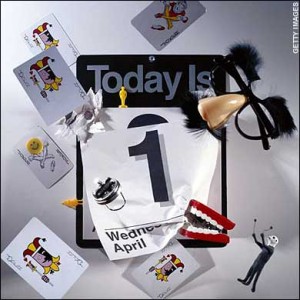 Planning an April Fool's Day party?  Or, hoping to spread some merriment around your office or home?  Read on for some fun party themes, funny jokes, and overall Fool-ish Fun!
April Fool's Food
One of the easiest ways to pull a prank is with food.  Here are some fun April Fool's Food ideas.
Fake Fish Sticks (This one's especially good for kids!):  Coat two sugar wafer sandwich cookies with peanut butter and roll in cornflakes.  Add a side of "barbeque sauce" by squirting a bit of strawberry jam on the plate.  Garnish with green apple taffy "peas" rolled from dark green taffy!
Jelly Juice (You have to set the table before you let people in the room for this):  Prepare juice-colored jello in regular glass juice glasses. You can make regular juice into jello by adding non-flavored gelatin to your favorite juice.  They'll pick up the glasses to take a sip and OOPS! No can do!
Gag Lunch  (As in "prank")  Open a single-serve bag of Fritos, dump it out, rinse it, and replace with baby carrots. While you're at it, carve a little hole in an apple and stick a gummi-worm in it.
Swedish Fish Sushi (Sushi made from candy)  In a dimly lit room, nobody can tell the difference until they eat it!  Cut sushi rolls from pound cake slices.  Coat top and sides with white icing, and sprinkle white coconut on top.  Wrap with grape fruit-roll ups to look like seaweed and top with gel candies.
Funny Fool's Day Pranks
Your friends are much more likely to laugh along with you if your prank is fun, but basically harmless.  Here are a few funny pranks.
Fool with the clocks:  this works at home and at work.  At work – sneak into the object of your prank's office and set their clock forward an hour.  Then, when they show up to your office for your scheduled "meeting" an hour early, the joke's on them!  At home, when your kids have fallen asleep, sneak into their rooms and set their clocks forward two or three hours.  When their alarms go off, they'll go through the morning routine, only to realize it is still the middle of the night when they get down to breakfast!  (Works best for middle or high-schoolers).
Leave a message from "Mr. Lyon" with a return phone number of a zoo! (Heh heh-get it-Mr "Lion"
Twitter-only:  tell your family, co-workers, and everyone else,  in a 140 characters or less message, that you'll be communicating exclusively by twitter from here on out.   (That's not such a far stretch for some of us!)
Last, but not Least
If you pull an April Fool's prank, be prepared for retaliation!  And, it could include fake vomit.