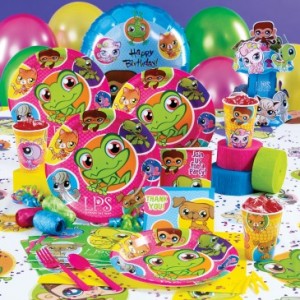 The Littlest Pet Shop supplies, from
CelebrateExpress
The Littlest Pet Shop is a toy and television franchise that debuted in the 1990s and is making a comeback—big time! Kids love the play with the pets that come with different accessories. (Perhaps you remember playing "veterinarian" or "adoption center" with your Littlest Pet Shop toys
.)
Fun options include "mother and babies" sets, a Littlest Pet Shop Zoo series, Chatter Pets and various play centers (the Care Center, Adoption Center and Kennel Playcase, among others). It's a fabulous, fun and furry theme for a birthday party or for anytime.
Warm 'n Fuzzy Littlest Pet Shop Party Invitations
Create adorable animal-themed invitations. Print and cut out the shape of a paw print; you can import a print outline into a document and then add your own text. A variation on this is a dog bone shape or the outline of a kitten. Or print Littlest Pet Shop imagery on card stock.
Another option is to take a picture of your child surrounded by her favorite Littlest Pet Shop toys and add the party information below the picture or inside the card.
Include a cute intro, like the following:
Bow-Wow! It's a Littlest Pet Shop Party!
Come be a party animal with us!
Date:
Time:
Lunch will be served. (Bring an animal appetite!)
Be sure to purchase card stock that will fit in a regular envelope if you will be mailing the invitations. Or cut around the images to the correct size.
Super Party Snacks and Divine Decorations
Buy dollar-store dog or cat food dishes and pour party treats inside. They make fun and humorous party trays. Just be sure to let parents know that the dishes have never been used by animals! Believe it or not, that may crop up as a concern. But your guests will love the presentation!
Fill the dishes with candies, popcorn, pretzels, bite-size raw veggies and dip as well as plastic forks and spoons.
Choose a Littlest Pet Shop theme tablecloth or buy a long sheet of butcher paper and enlist in your little one's help to decorate it with pens, markers, paint or with printouts of Littlest Pet Shop favorite animals.
Blow up balloons and tape or tie them to the corners of the food table. Take a few balloons to your local grocery store or to a party store and have them filled with helium (some stores offer this service for free, especially if you purchased the balloons at their establishment). Hang streamers; if they're too straight, curl them overnight by winding them tightly, then unravel when you're ready to decorate.
Get the Party Going
Try these ideas for activities your guests will love:
Set up a "veterinarian's station." At a dollar store, buy plastic medical-type toy items, like a stethoscope, a nurse's cap and various plastic containers to resemble medicine bottles. Also buy inexpensive bandages (available at any grocery store). If your child has doll beds or cradles, lay them out on the table for the little patients to sit on. Otherwise, double small towels to make "beds." Gather stuffed animals to be the patients and let kids "make it all better" for a romping good time.
Have a Littlest Pet Shop coloring contest. Print out black-and-white outline pictures of Littlest Pet Shop favorites and have kids get creative with crayons, markers and stickers. Afterward, give each creation a prize (a Littlest Pet Shop toy
is the perfect choice).
Play episodes of the show in the background while the kids run about. There's also a Wii game
– check it out!
Send your guests home with party favors including, of course, Littlest Pet Shop toys and accessories. These can be found on Amazon.com or ebay at reasonable prices. Add some candy and you have a great take-home treat.