Monkey Around with Your 40th Birthday Party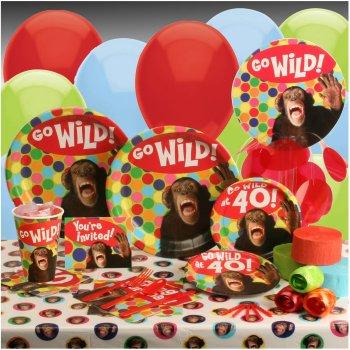 Monkey around party pack, available at
Buycostumes
What does "40" mean to you? (Or 50, 60, or other mere numbers?) If you said maturity, a refined attitude and a fond farewell to fun, then run, don't walk to the nearest "monkey around" birthday party! Get your wild on and loosen up a loved one's big day with these ideas.
Get 'Em Laughing
Turning 40 is a milestone, and though it's certainly a positive one (I have to say that, I'm close to it!), some people are a little hesitant to celebrate it.
A "monkey around" 40th party is all about reminding the guest of honor that every age can be fun—and the 40s perhaps most of all! Try monkey-themed images or "Over the Hill" slogans for plates, cutlery and decorations. Add a little glitz by tossing palmfuls of confetti on the food and gift tables.
Anything that gets a belly laugh is "in" – so go all out in decorating for this fun theme. How far should you go? We've seen tombstone candles with an emblazoned "40", and we've seen slightly on-the-lighter-side stuff. I once saw forty monkeys on the birthday boy's front lawn, with a huge banner reading "Still Wild at 40!"
Base your decoration scheme on the guest of honor's personality; don't push him too far, but do get him chuckling. Here's some party ideas to make this party memorable and over the top:
Retro Fun
Go back in time and rock out with a retro 1960s or 1970s party commemorating the birthday boy or girl's birth year.
Collect the best hits of that year or decade and have them blasting in the background to get the party started.
If it's a surprise party, this will be even better; ask guests to dress in their retro best, and have leg warmers, a head band or a daisy-covered vest ready for the guest of honor to wear. Be sure to take plenty of pictures!
Birthday Roast
If you've ever seen a celebrity roast, you know how much fun these can be…and how, in the end, they always seem to include genuine, from-the-heart toasts to the recipient. Ask friends and family members to write a short commentary and be involved in a surprise roast for the birthday boy or girl.
Again, go with his or her personality here. Gentle ribbing is just as effective as all-out razzing.
Hint: Have the roast start near the beginning of the party, particularly if there will be alcohol served. You want your "roasters" at their personal best for this memorable event.
Big Kids Love Sweets Too
Whether you have a party full of giggles or a more refined affair, you'll want great food available to your guests.
Decorate a cake with imagery that the guest of honor can relate to (a green cake with golf balls for a golf fanatic; "This is Your Life" in icing on a rectangular cake for someone who loves to read). If you're all thumbs when it comes to baking, ask your local bakery if they can make a cake to your specifications.
Finger foods are a great choice for a 40th birthday party, as guests will almost certainly be mingling rather than sitting still. Finger sandwiches, rolls, and small baked appetizers make an impression yet are usually very easy to put together (or buy the frozen, ready-to-bake variety).
Monkeys, of course love bananas, so try mini banana-splits for desert.
If you're planning on serving cocktails, be sure to have lighter beverages, such as soft drinks or non-alcoholic punch, available as an alternative. Here's a recipe for one of my favorite cocktails, "Monkey's Lunch":
1 part banana liqueur
1 part Kahlua or other coffee liqueur
1 part milk
Pour the liqueur over ice, then add the milk.
Capture the Moment
Don't forget to snap a few shots of the guest as she enters, especially if the celebration is a surprise party. Tip: pick up inexpensive disposable cameras and pass them around to the first few guests who arrive. Ask them to stand off to the sides with a clear view of the doorway so they can get that first "surprise" shot.
Remember: 40 does not mean old. It means one more fabulous year to celebrate with friends, exchange happy memories and create new ones. Have a wonderful celebration!