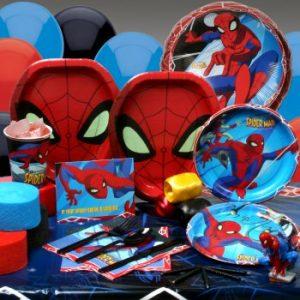 Spider-man birthday party kit, available at
Birthday Express
Look out – here comes the Spider-Man! Awkward teenager Peter Parker by day, web-slinging superhero by night! With the huge popularity of this Marvel character, both in comics and movies, you can easily organize a Spider man birthday party with matching decorations, invitations, party favors, tableware and games.
Spider-y Scenery
Make sure your decorations match the Spider-Man theme. Red and black streamers to imitate Peter Parker's good-doing alter ego are perfect.
Your birthday boy or girl will also love Spider-Man tableware, such as plates, cups, napkins and a matching tablecloth. Choose black or red forks and spoons. To go all out, you can also make or purchase wall decorations or character cut-outs to decorate the room or your house.
Since Spider-Man spins webs, buy some webbing or buy a bag of cotton balls. Then, stretch them out to form webs and place them in corners, on stair banisters, and bushes outside leading to the front door of your house. You can buy packs of plastic spiders at any dollar store or online to stick to your webbing.
Spider-Man Theme Desserts
The right cake will really make the party (and will make the birthday boy's eyes light up). Spiderman theme cakes can easily be purchased at any local or supermarket bakery, but if you have the time, it's easy to bake and decorate your own cake too! Here's how to do it: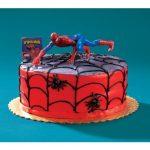 Find a picture of Spider-Man, or his head, and print it out
Cut out his body or shape of his head, and put aside
Bake your cake, making sure that the paper shape will completely fit on the cake top
After baking and cooling, either place a base layer of white or light-blue colored icing on top, or place the paper on the cake without it. I prefer a base layer of icing, as this will act as the background. Also, leaving it in the freezer for about an hour or overnight will make lock the moisture in the cake and, of course, create a solid icing layer to draw on.
Place the paper on top or the cooled cake and trace around it with a toothpick or black icing. Remove the paper and fill the entire outline with red icing
Using your eye, draw in the details with black and white icing. Fill in the major areas first, such as the eyes and contours of the body (for instance, draw a line to make the head.)
Finally, using black icing or black string licorice, draw the webbing to complete Spider-Man's outfit
For the rest of the background, add plastic spiders or draw your own with left over black icing, a web spraying out of his hand, or anything else you can think of
You can also bake up a batch of cupcakes and top them with with images of Spider-Man with his famous web. Other neat ideas include baking up Rice Crispy treats with red food coloring
For party favors, look for Spider-Man treat bags, stickers, plastic spiders and themed candies. Gummy spiders are a good choice, too.
Action Hero Activities
Holding a Spider Race will be fun for kids of all ages. Divide the children into two groups and tie each group loosely together with string, yarn or twine. The "spiders" must then shuffle together to the finish line. The group that gets there first wins a prize.
For little ones, print out blank coloring pages (these are easy to obtain on the, ahem, web) and let them color and hang up their finished creations around the party area.
Don't Get Bitten is another fun game. Use a small beanbag, preferably colored green or black-and-red, and have the children toss it around the group. Turn your back so you can't see who has the bag; yell "Bitten!" at random. The child holding the bag at that moment has been "bitten" and is out. Keep going until you have one winner.
Make a Mad Scientist Lab
Peter Parker was bitten by a radioactive spider; the venom gave Peter his Spidey powers. And some of Spider-Man's arch-enemies (like Doctor Octopus and the Green Goblin) "created" themselves either purposefully or accidentally.
Have a mad scientist lab of your own for kids to touch, feel and explore. Fill plastic vials with water and food coloring; create "goop" with cornstarch, green food coloring and water; and be sure to stick a few plastic spiders here and there for effect.
Kids will love trying to identify the eerie-looking lab offerings.
A Dress-Up Party
The party will be even more thrilling if you ask guests to dress up.
There are plenty of choices in the Spider-Man world. Try Spidey himself (of course!), Peter Parker's longtime girlfriend and future wife Mary Jane, anti-heros like Venom, or Gwen, Peter's first crush.
Even Superheros Need to Be Polite
Spiderman themed invitations are, of course, a must. Pick up some thank-you notes while you're at it and teach your little action hero that it's always nice to thank guests. After the big day, sit down with your child and have him or her sign each note. It's the perfect finish to a web-tacular event.