A Pumpkin Halloween Party
Pumpkins, jack o' lanterns, black cats and orange decor! It's a little scary, a little sweet and a whole cauldron full of fun. It's Halloween – and your child won't want to miss out. If you need a good theme for your party, why not go all out with pumpkins for a scary good time?
Pumpkins, Pumpkins Everywhere
Spooky trends may come and go, but nothing says Halloween like a lineup of jack o' lanterns. To give the party area a real autumn feel, carve or, if you and your child prefer, paint a few gourds and stack them on your front steps to greet guests as they arrive. (Try one of these unique ideas for the most talked-about party decorations of the year.)
For a traditional look, have your child help you carve a medium to large (approx. 10-15 lb.) pumpkin and set it out in the center of the serving table. Place a battery-operated flickering candle inside; this is a safer but still very spooky alternative to candle flame.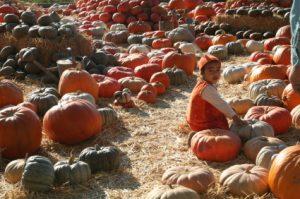 Pumpkin-decorated tableware (plates, cups and napkins) add instant atmosphere and look fabulous on the serving table.
Hang creepy streamers from the ceiling and doorway in orange and black for a dramatic Halloween effect. Scene setters and doorway decorations help create a chilling atmosphere. And don't forget the spooky sounds or a Halloween music CD!
Freaky Foods
Depending upon the age of the party guests, you can go from giggly to downright gruesome with your food offerings.
For young children, serve pumpkin cookies (yum!) and "pumpkin" punch (one liter of orange soda plus two cups of pineapple juice for a light orange color and super-sweet flavor). Bowls of candy corn will be a hit; so will any orange colored foods, such as cheese flavored nachos or cheese puff snacks.
Cheese popcorn is another familiar favorite; alternate this with bowls of green popcorn by adding food coloring to the kernels before popping in an air or oil popper (refer to the instructions on your popper to avoid damage and ensure easy cleanup afterward).
Older kids will dig right into rat stew in a pumpkin and even the by now-classic kitty litter cake.
Activities for All Ages
Different age groups will appreciate different party activities. Try one or more of these for silly, spooky or scary fun:
(ages 2-5) Paint pumpkins. Purchase small (about 3 lb.) pumpkins from your local farm or the grocery store. Have children use paint, stickers and non-toxic ink stamps to create their very own decorations without the need to carve.
(ages 3-6) Play Pin the Nose on Jack. This one is easy, and will be loads of fun for you and your child to make ahead of time. Draw a large jack o'lantern, leaving out the nose. Color it and tape it to the wall with removable tape. Cut out and color various "noses" and apply double-sided tape to the backs. The game is played like Pin the Tail on the Donkey.
(ages 5-9) Host a magic show. A few inexpensive props and an online lesson or two will have you making magic in no time. Be sure to dress in costume (a simple cape will do). Or have an older child be the magician.
(ages 7-10) Set up a haunted pumpkin patch. You'll need to enlist in some grown-up friends or older children for this activity. Have the "ghosts" hide in various places in the yard. As a child comes close to where you or a fellow "ghost" is hiding, leap out (hint: Know your audience—if the guests frighten easily, tone down the scary factor here). The shrieks and giggles will be priceless…for both the actors and the guests. At the end of the pumpkin patch, each guest receives one pumpkin shaped candy or other similar prize for bravery.
(ages 11 and up) Have a movie marathon sleepover. Pre-teens and teenagers will love staying up all night to watch spooky movies. Make sure you have control over the DVDs they watch—even older kids can get worked up over certain movies (avoid gore in particular). Have plenty of snacks on hand…and don't forget the night light in the hallway that they'll all insist they don't need.
Your pumpkin party offers almost limitless possibilities. Get creative and get in touch with your inner child to plan the festivities. Your kids will love the results—and so will you.