How to Have a Mardi Gras Masquerade Ball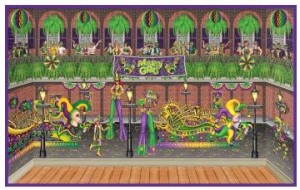 Mardi Gras scene prop, available at
Buycostumes
A Mardi Gras Masquerade Ball is a fun way to celebrate the Mardi Gras season.  Invite your guests to make and bring their own masks, or let mask making be part of the fun.  Mardi Gras is always an over the top affair.  Here's how to bring the Bourbon Street into your living room for a mask-nificant party.
Invitations
For a masquerade ball, the invitation must include a mask.  You could print mask-themed invitations, or send two blank masks with the invitations and invite guests to decorate the masks and wear them at the party.  If you're going to have a mask contest, indicate that on the invitation so that guests come prepared.
Decorations
This is probably the single biggest element of a Mardi Gras party.  For an easy to use all in one decoration kit, we recommend the Mardi Gras scene kit.  It comes complete with:
Mardi Gras Balcony Backdrop (approximately 4′ high x 30′ wide)
Mardi Gras Brick Wall & Street Backdrop (approximately 4′ high x 30′ wide)
Mardi Gras Decor & Street Light Props Add-Ons (21 count)
Mardi Gras Reveler Props Add-Ons (18 count)
Mardi Gras Float Props Add-Ons
Mardi Gras Confetti & Serpentine Border (approximately 22" high x 30' wide)
Mardi Gras Beads Peel N Place (16 count)
This kit will help you bring Bourbon Street to your street.  To add atmosphere to the party, bring in large, tropical potted plants and vines.  You can even rent "street light" lamps to put around the house.  String white lights across the ceiling from side to side to simulate the lights of NoLa.  Decorate your food table as a Mardi Gras parade "float!"
The main Mardi Gras colors are purple, green and gold.  Decorate liberally with these colors.
Entertainment and Music
Find some authentic NoLa music on Amazon.  New Orleans is known as a city of music, with brass bands and jazz predominating local music.  Everyone knows "When the Saints Go Marching In."  Here are some other tunes to hunt down for your Mardi Gras playlist:
Mardi Gras Zydeco
Zydeco La Louisianne
Jambalaya
Zydeco Boogie Woogie
Zydeco Macarena
Choo Choo Cha Boogie
Georgia Swing
Shoe Shiner's Drag
Keep on Gwine
B's Paris Blues
Lawdy Miss Clawdy
Mardi Gras Mambo
Carnival Time
Masquerade (From Phantom of the Opera–technically it isn't a Mardi Gras tune, but no masquerade party is complete without it!)
Hold a Mardi-Gras mask contest.  Ask everyone to wear masks, and keep some extra for those who forgot. Or, you can have blank masks at the party, along with art supplies like markers, glue, glitter, feathers, ribbons, and more, and let people decorate their own. The most creative and elaborate mask wins a party pack with music CDs, beads, a small "baby" for a king cake, a small bottle of Southern Comfort and other favors.
Masquerade Party Food
There are certain New Orleans-centric foods that are a must eat at any Mardi Gras party.  Here are some foods that you must have at your Mardi Gras party.
Beignets:  these are little doughnuts, about thumb sized, cut into squares, fried, and tossed in paper bags full of powdered sugar.  They're good hot!
Pralines:  Pecan and sugar treats
Gumbo: a chili-like soup made with okra, sausage, rice, beans and spices
Crawfish or prawns and remoulade
Oysters Rockefeller (baked oysters)
Crab dip
King Cake (A traditional Mardi-Gras cake with a little plastic baby baked inside.  The person who gets the baby gets good luck!  And, has to buy the next cake!)
Beads and Bars
Even with a Masquerade party, you can still have competitions or little games for beads.  And, for a Mardi-Gras party, you are going to want to stock a full bar, complete with bourbon, of course!
Go all out for your Masquerade party!  Have fun, and let go!