How to be a GREAT Party Host(ess)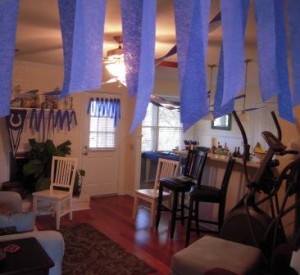 This is where I give away all some of my secrets about being a great party hostess. If you've become a fan of "Theme a Party" on Facebook (and if you're not our fan, WHY NOT? click here to become one), you know that Chris has dubbed me the "Party Princess."
It is true, I'm heir to a long-standing party tradition in my family. My Mom and my Grandma are the "Queen" and "Queen Mother" of party hosting.  I've picked up a thing or two from them, and, along with my husband, honed my party hosting skills.
Almost everyone who leaves our parties writes to us the next day to say "Loved the party. Great, as usual."  or something to that effect.  There are a few things that we ALWAYS do at our parties that I think makes them comfortable for everyone attending.  Best thing is, these are EASY things to do, for EVERY party.
Arrange for Adequate Seating
If you are having a party that is other than a "drop by for a little bit, then leave" type of party, you need to have seating.  For the most part, people will mingle, but they will want to sit.  Especially, while they are eating.  Try to place your seating within reach of end tables or other places to set drinks.  TV-trays (small folding tables) are great to have on hand for this purpose.  You can set them up on the day of the party.
Set out plates, silverware and napkins within easy reach
Always have MORE cutlery and plates than you think you need.  If you want to use real silverware, same thing: don't make your guests feel bad about picking up a new fork for dessert.  You can talk about being green another time.  I have a friend, also a party princess, who washes all of the plastic.  That's cool, too.  Put a little sign next to the plastic that says "I reuse-please put in sink when finished."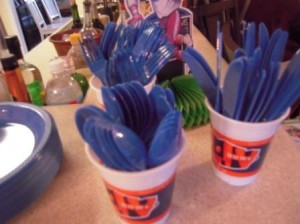 Always have bottled water, regular and diet sodas on hand
Again, the theme is EASY reach.  Don't make your guests fish around in the 'fridge for drinks.  If you want to cut out the bottles, keep an ice bucket and a pitcher of ice water at the bar.  Also, again, always have more than you need.  I HATE going to a party where's there's not enough to drink.  Especially down south, where it is HOT, 9 months of the year.  Why do you need diet and regular?  If you're serving sodas, some people will want regular and some will want diet.  Don't force your preferences on your guests.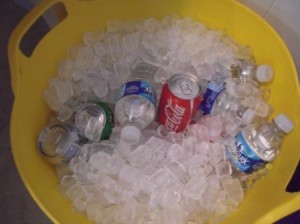 Provide a light and a dark beer choice
Again, this is if you are serving beer.  You don't have to.  (And you don't have to serve Pabst.  This was a Super Bowl party bucket of beer. Not fancy!)  Keep a bottle opener near the beer or the bar "area."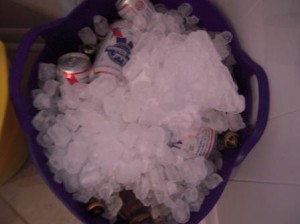 If you're having a bar, stock the basics
When we host our annual Kentucky Derby party, my husband mixes mint juleps ALL DAY LONG.  Generally, though, if we're having a bar, we just stock it with basics, including a little cutting board, limes, lemons, cherries, cocktail onions and olives, a paring knife, sugar, club soda, tonic water, and gin, tequila, bourbon whiskey, and rum.  We put 12 oz. cups nearby, large enough for a drink, and let people mix their own.  They can mix with any teas, lemonade or limeade, or sodas we have on hand, and the mixers.
People enjoy creating concoctions.  Occasionally, in the summer, we'll mix a pitcher of Sangria, or create a custom drink.  A custom drink means that someone has to "tend bar," though.  For a relaxing party, let guests serve themselves.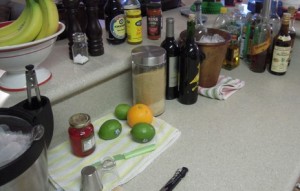 Offer a red and a white wine choice
I always uncork a red and a white, and have them on the bar – the white in a bucket of ice.  I also have a couple of extra bottles of white chilling in the 'fridge, and a couple of bottles of red next to the un-corked one.  Usually, the guests will finish one before they open another, but it doesn't really matter.  By stocking a couple of bottles next to the open one, I can be sure that they don't raid the VERY FULL wine rack next to the counter and accidentally open a bottle my husband has been saving for the last ten years.
Stage and stock refills within easy reach
The first guests at my Thanksgiving meal last fall saw me open the door going out to the garage.  I was getting something for the party.  The guest, bless her heart, said "Oh! That's your secret."  Yeah.  I have a MESSY garage.  I know where everything is, but it is FULL, and there are all kinds of random things perched about.  I try to avoid opening the door to the garage AT ALL COSTS during a party.
That means, I stock napkins, extra silverware, chips, paper plates, paper towels, trash bags,  foil, saran wrap, and everything but soda, in the cabinet under the counter we use as the "bar."  That way, while chatting with guests, I can quickly reach under the counter, whip out what I need, and keep the party going.
Set out a recycling bucket
Most people like to recycle.  You really should recycle.  Set out a tub or bucket, either near the trash or near the sink, for recyclables.  Put a can or bottle or two in it so people know what it's for.  My secret to easy setup and cleanup?  I have 11, yes, ELEVEN, trug tubs.  I use them to ice down drinks, collect trash, collect recycling, etc.  (I also use them for organizing, in the garden, to hold my surfing wetsuit, etc.  They're indispensable!)   They're also available at Amazon.
Those are my secrets!  They're simple, but they make a big difference.  We do each of these things for EVERY party, and every party is a success!