Bowling Party Theme for Adults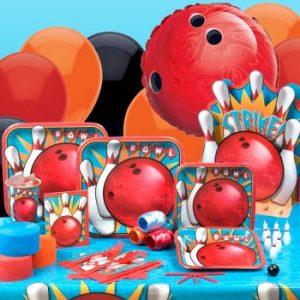 Bowling party supplies, available at
Buycostumes
Bowling, anyone? More like bowling, everyone! We have yet to discover the guest who can turn down an invitation to bowl, so why not plan a bowling party for your friends or coworkers? You'll have almost as much fun organizing it as your guests will have attending it!
What's the Occasion?
One of the best things about a bowling party is that it works well for a number of different celebrations.
Birthdays, hiring or retirement celebrations, 40th birthday parties, nostalgic 50s revivals and even casual get-to-know-you affairs will be a hit at the bowling alley. Consider this type of celebration for any get-together among adults who like to have fun.
Renting the Bowling Alley
Call your local bowling alley and find out rates for reserving however many lanes you will need. There may be a maximum number of players per lane, so give the manager your party total in order to get the correct estimate.
Consider having your bowling party on an "off" bowling night, or during the afternoon on a weekend rather than the evening, to receive reduced rates.
Decorating and Dressing for a Bowling Theme Party
The most obvious choice for a bowling party—and by far one of the most fun—is a retro theme.
Ask guests to dress in 50s attire (they can bring their own shoes if they have them and if they meet the alley's regulations; otherwise, let guests know they will need to rent shoes there). Be sure this is stated on the invitation so no one misses out.
The sport, of course, makes its own theme, so gather cups, plates and napkins with bowling balls and pins on them. Ask the alley whether you may put decorations up at the lanes you're renting.  If not, most alleys will at least allow cups, plates and the like if they're set back a certain distance from the lane or on a table behind your lane.
You can also play "Goofy Bowling" (lane rules permitting), with guests picking one goofy style randomly from a hat; for instance, "Bowl backward between your legs."
Let the Game Begin
You may not know a strike from a spare from a gutter ball, but don't worry—bowling in its most rudimentary form is easy to pick up and loads of fun whether you place first, second or last.
However, if you're the betting type, divide the guests into teams randomly and have a friendly competition. The winning team earns a prize that can be split among them—such as a huge box of chocolates—and the top scorer overall receives a small gift certificate or other token.
Otherwise, play for fun and celebration. It's always a good time for a bowling party—get started planning yours and watch guests flock toward the fun.