Party Central in New Orleans: The Saints in the Superbowl DURING Mardi Gras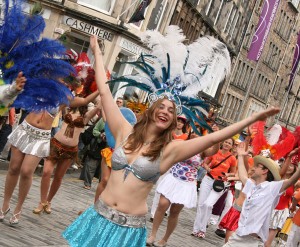 Where would you like to be right now? Shoveling your car out of snow before hitting a slippery, crawling freeway to face a grey cubicle at work with painfully flickering and whining lights overhead? Oooooor, be in New Orleans, where they are celebrating The Super Bowl AND Mardi Gras?
NoLa.com's article about the convergence of Mardi Gras and The Super Bowl, with the New Orleans Saints making an appearance, is enough to make me want to hope a plane from the cold north just to watch the party!  Oh, who am I kidding?  I want to be part of the party! Local officials are expecting 2010's Mardi Gras celebration to be one of the largest in history, whether or not the Saints win the big game.  Players will be participating in parades and festivities, and there will be a special parade in the Saints' honor, regardless of the outcome.
Since my wife's unlikely to let me loose to participate in one of the least inhibited, wildest events of the year, I guess I'll have to bring the party home.  Here's how to celebrate when the "Saints Go Marching In" to the Super Bowl:
Millions of Mardi Gras Beads, etc.
A Mardi Gras/ Super Bowl Party presents the perfect opportunity for bead collecting and other merriment.  You and your friends can participate in these bead-winning games (as opposed to those going on in the streets of New Orleans).  Stock up on Mardi Gras beads
and play these games, with the winner of each receiving a strand of beads, and the collector of the most beads receiving the grand prize:
Guess which team will win
Guess the final scores
Guess the spread of the final scores
Guess who will be ahead at half time
Guess how many yards each team will rush
Guess how many yards each team will pass "complete"
etc. and so on!
Halftime Parade: Krewe of Kids
If you have kids at the party, encourage each of them to make a mask during the first half.  (Chances are, they won't be much interested in the game.)  Then, during halftime, have a parade around the house, or around the neighborhood.  Noisemakers are strictly required for this activity.  If you're brave, get beans, plastic cups and duct tape and let the kids make and decorate their own noise-makers,
too.  (The groups that put on the official Mardi Gras parades are called "Krewes")
Super Bowl Snacks: Mardi Gras Style
The Big Game is nothing without Big Snacks.  Here are my favorite, with a bit of NoLa inspiration:
Spicy crawfish dip
Bloody Mary's
Cheese straws
Shrimp and cocktail sauce
Jambalaya
One thing's certain about this year's Super Bowl:  It's going to be a rockin' party!