Birthday Parties Served Every Day!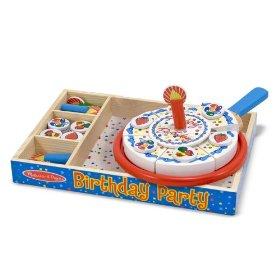 My daughter just loves birthdays, and she always asks if somebody else is having one. I've seen her serve pretend cake to her stuffed animals, and she has the full compliment of toy dishes, fruits, toast and other food for her kitchen, so I thought, "I wonder if somebody sells a cake toy?" A quick check on Amazon, and no problem!
Every child with a play kitchen needs baking supplies. The best thing about Melissa and Doug products is that they are durable and long-lasting.  They can have innumerable birthday parties with you (whether you want to or not) with this set.  She can also customize each birthday cake "served" with various toppings and candles, and comes with a serving spatula and cake dish. Ready for your child to lead the family in singing Happy Birthday to blow out the "candles?" (My daughter will begin singing Happy Birthday and end up singing Jingle Bells.)
The set does have some small pieces, so it is not recommended for children under 3 years old.  At Amazon, they have a great demo video that shows all of the different pieces, and the way they fit together.  As a toy to facilitate the imagination, this set is highly rated by parents, as well.
One of the best parts of this cake play set is that the "Happy Birthday" is an optional decoration for the cake.  So, your little future baker can serve the cake for tea parties, and other special occasions.  As with all Melissa and Doug products, this one is sure to be a hit with the kids. We have several textured puzzles from this company as well.
The Melissa and Doug Birthday Party Cake Set is available at Amazon