Watch Out, Little Pooch – It's National Dress Up Your Pet Day!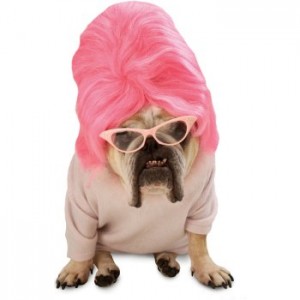 Yup, there's a celebration for everything! January 14th is National Dress up Your Pet Day! All dogs and cats (and pigs too), RUN! Run for your life! Oh, sure, my 3 year old daughter would LOOOOVE this holiday – she tries to dress her "cousin" Bacardi (a mini pin) all the time – when she's not trying to ride on him, that is. I dressed my daughter as a dog for her second Halloween, so payback is a … urr, female pup.
I'm trying to figure out who started it, but no such luck. I found a press release from 2003, so it's been going on for a while. Others say it's January 15th. Oh well, it's a fun excuse to dress your pet twice in a year – now, and at Halloween! If you really want to embarrass your dog, my favorite is a jockey dog rider outfit over at Buycostumes.
Since a majority of pet owners view their pets as their children – (I know I would, and we're planning for a "third" child, probably a dachshund cross when our other children are a bit older) – there's no reason not to have fun with a costume or two. If you plan on doing so, here's a couple tips I know from other pet owners:
Start small, and work your way up. Your pet will freak out if you dump an entire ensemble the first time out. Instead, try a cute collar or other accessory first, and work your way up slowly so they get used to it. What looks cute and creative to you may cause panic for them
Dress yourself too (then both of you will look delightfully silly) – bonus points if you dress the same!
Submit your photo to a variety of pet dressing contents. Craftplace.org is one such site for this, if your costume is homemade
Oh well, it could be worse for all you pets – you could be featured in I Can Has Cheezburger
or something like that.
Incidentally, it's also National Hot Pastrami Sandwich Day, but I have leftover soup to eat. Oh well.