Yes the end of summer is upon us, sad but true! Though this means that the long days of sunshine and pool time is over, it also creates a unique opportunity to welcome the upcoming school year.
Most parents don't look at back to school as a positive experience for their kids, but you can change their perceptions with the right party. If you frame it right you can turn even school supplies into an exciting and welcome aspect of this previously dreaded time of year.
The key is to take the sting out of the fact that school, homework, and early mornings are coming back full force. If you can create a new tradition by way of an excellent end of summer party that just so happens to embrace the new school year ahead then you are sure to hit a home run with the kids.
This does take some effort and of course a bit of creativity but you can get even the biggest school hater to feel excited about what lies ahead with some well planned activities.
Show What Your Summer Was All About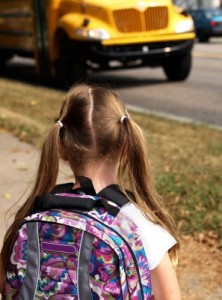 Create an activity whereby kids can create their very own storyboard to showcase what their summer was all about. You can do this in the way of an individual scrapbook page or even a smaller poster board, and either way will work perfectly.
Invite them in advance to bring pictures and pieces of memorabilia from their summer for a fun activity. This will not only entice them to be part of something fun, but it will take their mind off of the mundane school days that lie ahead.
Set up an area of the party where you have these scrapbook pages or mini poster boards for them to use. Then put out glue, markers, crayons, stickers, scrapbook sayings and decorations, construction paper, and anything else that can help them to decorate them.
Encourage the kids and help them to put together their individual page that utilizes whatever memorabilia and pictures that they have with them. The kids get so excited about creating this excellent memory of the summer and sharing their stories, and it makes for a nice way to end summer and kick off the upcoming school year.
Ta Dah—New Shiny School Supplies to Take Away the Pain
Turn the boring old school supplies into something very exciting. Display cute little racks of pencils, folders, markers, and the like for the kids to choose from. You don't have to go broke on this as you can find some great discounts but if you display them properly they make for a very welcoming little addition to the party. Turn these into favors and a fun decoration—think of having erasers and ink pens hanging from the ceilings!
You can even turn this into a fun activity by way of creating an auction. Wrap up fun school supplies and don't tell the kids what's inside each one. Then create an auction where the kids can "bid" on each package until they all end up with something.
School supply shopping was never so fun and this ties in perfectly to the theme and the time of year. You can make the grand prize a new backpack filled with unique school supplies including locker decorations and a pencil carrying case. They will love this and it's so easy for you as the parent to pull together.
A Party of All Parties to See Old Friends Again
Keep in mind that sometimes kids don't get to see some of their school friends for the entire summer when schedules get busy. Create a fun party for them to reunite and reconnect with old school friends so it's a much easier transition. If you have access to a pool then a pool party is always an excellent venue for this, but otherwise a backyard bash with fun games and good food always works.
You can create your own lunch line for the kids to come through to get their food. Create a cart where they can grab favorites like little bags of chips, pizza, apples, and cookies to create their own a la carte feast.
You can go the route of a big BBQ with hamburgers, hot dogs, cole slaw, and S'More's to end the summer. There's nothing like an ice cream sundae bar to sweeten up this positive party. Put out various flavors of ice cream, hot fudge, caramel, whipped cream, and of course sprinkles for a nice ending to a great party.
You can line the backyard with favorite games like Frisbee, water balloon toss, and even a relay race. The whole idea is to get them back with their friends before school starts and to make it fun.
This takes their mind off of the sad part of summer ending, and instead focuses on the fun times they have ahead with good friends. Back to school doesn't have to be such a bummer, and this party is the perfect way to ensure that the kids go into the school year with a great attitude and wonderful ending to summer.