Olympic Party Games Roundup
With the closing ceremonies of the London Olympics still being talked about, it seems that everyone has caught the fever. Even if you don't center your party around the London Olympics specifically, this is a great theme to ensure loads of fun for your party guests. Not only do you have a built in theme and color scheme, but you have a wonderful springboard for which to create some fun activities.
Kids love to be a part of games, particularly when they are similar to the Olympics themselves. You can really help to recreate that Olympic feel using some of the same types of events you saw on TV each night. You can also go for the more creative approach and take regular kids games to the next level by adding in an Olympics twist (mainly by renaming them and adding gold, silver and bronze medals!)
No matter what you plan, the games are what will help to make your party a great success and fun for all of the kids in attendance—this is how great memories are made and these blogs offer some excellent ideas!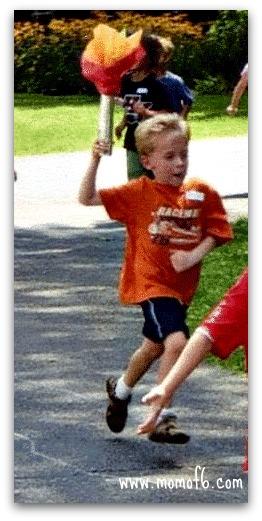 I know you have Chariots of Fire humming through your mind right now! Great pic by
Mom of 6
Gold: Most Complete Olympic Games
You can tell that Sharon of Mom of 6 definitely put her heart and soul into this fantastic party. It has everything! A complete opening ceremony with flags and a torch bearer, then ten Olympic events:
Relay Running Race
Long Jump
Shoe Find
Frisbee Toss
3 Legged Race
Hula Hoop
Bean Bag Toss
Obstacle Course
It's a Wrap!
The closing ceremonies involved everybody getting medals while the national anthem played in the background. The parting gift was bottled water (I'm sure all the kids finished that!)
Silver: The Pentathlon
I love the way that Party Ideas 4 All describes this fun combination of Olympic events into one. You can really combine any combination of Olympic events or even cater some fun games depending on the age group that you are throwing the party for. Here you have discus in the form of a Frisbee, javelin through some store bought foam javelins, long jump competition, running races, and even wrestling if you have boys.
What a great way to tie this into the Olympics! The beauty behind this idea is that you pay homage to some of the favorite events and keep the kids busy all day long through this series of competitive events. You can surely get rid of one event and try out another if you need to, and so it can be age and gender appropriate no matter how you plan it.
Bronze: Gymnastics Challenge
It goes to show that she really gets it when Sarah Party Games describes this simple but fun little competition as her third game idea. You can relate and get some great ideas going. A simple gymnastic competition can be great fun, even if the kids are not gymnasts.
Set up an area for them to develop their own routine or perhaps consider a somersault or cartwheel area. You can throw in a balance beam or simple board for the kids to balance on. I love her idea for having the kids catch the ball while on the board to demonstrate their balance and ability. Don't make this too competitive, of course, but rather let the kids have fun reenacting some of their favorite gymnasts.