Call me old-fashioned. I find the idea of rag dolls all sorts of awesome. We've had a lot of begging for a Lalaloopsy party around the house (and for Halloween costumes), so I jumped into action and found some really cool party ideas. So if your kids love these dolls, here's some great ideas for hosting your own party.
What is the Lalaloopsy Collection?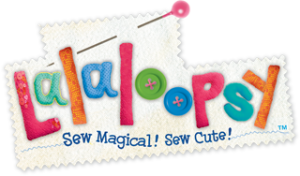 Lalaloopsy started out life as "Bitty Buttons," a line of eight unique rag dolls. Each had a back story and was "designed to teach kids that everybody is unique in their own special way," according to MGA Entertainment.
The original dolls were named Crumbs Sugar Cookie, Jewel Sparkles, Peanut Big Top, Bea Spells-a-Lot, Mittens Fluff 'N' Stuff, Dot Starlight, Pillow Featherbed, and Spot Splatter Splash.
Not long after their launch, the name of the series was changed to Lalaloopsy. Since the series launch in 2010, these dolls have really taken off. They've been compared to Tickle Me Elmo and Cabbage Patch Kids as a kids holiday must-have.
Getting Started: Party Invitations
Mail invitations two weeks before the party. Of course, you can always evite or text your guests' parents. We love making things around here, so I'd always go for something DIY.
Buttons figure into Lalaloopsy, as the dolls have a sewing theme ("sew magical, sew cute"). The dolls have adorable button eyes as well.
Download and enlarge a picture of a pastel colored button. Print "You are sew invited!" or "We'd sew love to see you" on the front. On the back, print the party information. Cut around the button's shape and mail.
Alternate idea: print out images of individual Lalaloopsy dolls. Print the party information on each doll. Have your child cut them out. Personalize each card and send. Of course, you can also personalize each invitation in the text before printing, and print individually.
Fun Idea: Ask Friends to Dress Up!
Why not make this a dress-up party? Ask guests to come as their favorite Lalaloopsy dolls
. Or, let them use their imaginations to come up with the perfect "doll" and copy that idea in their costume.
If the party will be dress-up, let guests know well in advance. Send an evite, email or text to the families about three weeks ahead of the party. This will give everyone time to gather materials for a great costume. TIP: We find thrift shops and Goodwill stores GREAT for this! Put together lots of colors and fabrics for a fun, doll-like look.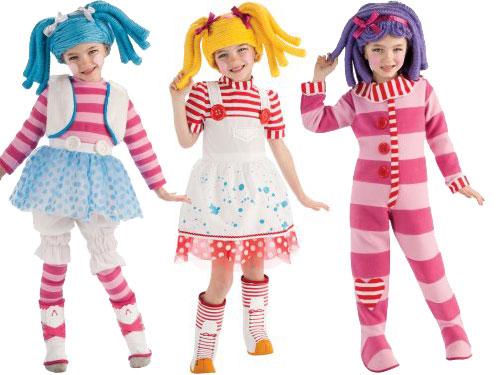 Lalaloopsy Party Decor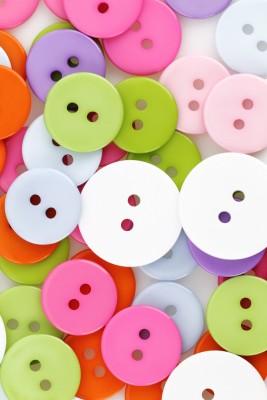 Your party decor should be playful, of course. Think pastel or bright colors, a dollhouse-like atmosphere, gingham, stripes and polka dots, wool and knitting, gardens, flowers and friendly pets. Here are a few ideas for creating a very Loopsy atmosphere:
Wool: Fill a tin bucket with spools of thread and place on the table as a centerpiece. Cute!
Buttons: Start collecting buttons a month or so before the party. Have your child enlist in guests' help by asking them to gather old or unused buttons. If you need to, you can find buttons at craft stores, too.  When you have a decent collection, have your child help you string all the buttons on a length of yarn. Tie knots between buttons to keep them spaced. Tie at both ends when done. Drape in loops on a wall, across the birthday girl's chair or across the front of the gifts table.
Balloons: Use lots of balloons in Loopsy-esque colors. Tip: buy a disposable helium tank or rent one from your local party store. Balloons that drift and dip around the party area are so cute and whimsical.
Fabric: Buy or gather cute pieces of gingham and other fabric. Cut into triangles. Staple to a length of yarn and hang as a banner.
Dollhouse: Drape gingham pieces over windows and tie back. These will give the party room a doll house-like feel. Tie pastel ribbons around chair backs.
Characters: Make oversize printouts of your child's favorite Lalaloopsy dolls. Cut out. Hang on walls using removable tape. (Test an inconspicuous section of your wall first to make sure the tape won't lift your paint or paper.) A cute way to hang Lalaloopsy doll pictures is to have them holding hands in a row, cut-out accordion style (click here to learn this tried but true craft).
Flowers: Have your child draw lots of flowers. Cut them out and hang on the walls or suspend with string from the ceiling.
Sew Cute Party Food Ideas
Pastel and "girly" (sorry … there are boy dolls!) colors are very Lalaloopsy. So are craft ideas, sewing and especially buttons. Match the food to these ideas. For instance:
Pastel-colored candies – if you're having the party some time near Easter, you're really in luck, but you should be able to find pink, blue and yellow candy regardless.
Frosting – Use pastel-colored frosting on cupcakes, the birthday cake, or cookies. It's very easy to create this yourself from vanilla frosting. Add food color one drop at a time and blend until you achieve the tone you want.
Colors: Serve pink, orange and other whimsical-colored foods. These can be healthy if you really try. How about watermelon, sliced peaches, sliced cantaloupe and tangerine sections? Also, try rainbow sprinkles on top of colored frosting add charm (and yumminess).
Colorful pasta: Cook up tri-color pasta. Toss with a little tomato sauce or a white sauce, or just top with cheese. You can also refrigerate cooked tri-color pasta and add vinegar, a pinch of sugar, salt and pepper for a fresh pasta salad.
Cookies: Make button sugar cookies. Roll cookie dough and cut out in circles (try different sizes for variety and fun). Bake per directions. Frost with a pastel-colored frosting. Add four dots for the button holes using a dark-colored squeeze icing. Add sugar sprinkles. Delicious.
Button-shaped candies: Have necco wafers, round butterscotch pieces, Life Savers, peppermint candy discs, etc. as buttons for a cupcake or cake decoration. Cut fondant is another great option. Dot each candy with dark icing to imitate the button holes. Allow to harden slightly on the candy. Now stick the candies on top of the frosting. Lay them flat or have the buttons stick up by inserting them partway down into the icing.
Activities For Your Bunch of Li'l Dolls
Find cute costume pieces at your local thrift store. Have guests play dress-up.
Download Lalaloopsy and other doll images. Print out and give to guests to color. Hang their creations on the wall.
Let guests take turns dressing up the birthday girl's Lalaloopsy doll (if she'll allow it!). Take a picture of each child with the doll wearing the child's fashion choices. For the thank-you note later, use the child's picture.
Give jewelry as party favors. These bracelets are adorable. OR: put out plenty of stringable materials and lengths of yarn and have guests make their own bracelets to take home.
Gather at the monitor and watch webisodes from the Lalaloopsy site — these are really fun!
Buy colorful bags ahead of time. Cut out circles for "buttons" and put a guest's name on each. Tie to a bag. These serve as goody bags after the party. Fill with candy, stickers, pieces of jewelry and other favors.
We've focused on girls, but there are Lalaloopsy boy characters, too. I wouldn't recommend boys over four or five at a party, however. If you do include boys, add splashes of bolder color and be sure to focus on male Lalaloopsy dolls so it doesn't feel like the party is "for girls only." You really can work this party to suit anyone. Have fun, doll!