How to Have a Great Kids Christmas Party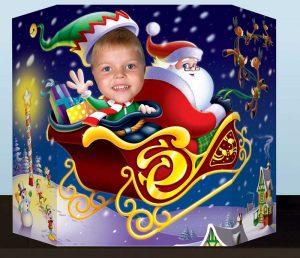 Cardboard photo prop, available at
Buycostumes
Kids love to celebrate the most wonderful time of year with a party. Organize a kids Christmas party this year, complete with games, decorations and treats that say ho-ho-holiday!
After you've read this guide, check out these handy Christmas party tips.
Come One, Come All
If they're school-age, have your children invite their friends by writing out the invitations themselves. Make sure the invitations fit the season and the feel of your party.
Or you can have children create their own invitations from scratch. This is an excellent project for the child who loves to "Do it myself!". Have cardboard, safety scissors, glue, glitter and magic markers on hand and allow your child to use his or her imagination.
Deck the Halls
Decorations needn't break your family bank. Try traditional red and green items in the form of Christmas trees, snowflakes, Santas, Frosty the Snowman, candy canes, Rudolph, and Christmas bells.
Again, here's a chance for your child to show his creative side. Ask him to make cardboard decorations and hang them on the wall with doublesided, non-staining tape.
Party Hearty!
Plan on having enough games to keep the kids occupied and having a jolly good time. Here are a few of our Christmas party game favorites.
Christmas stocking relay race: Divide guests into two teams. Have each team line up at one end of the room. Hang a Christmas stocking near the front of each line. At the other end of the room, set up a bowl of candy for each team. Hand the first child on each team a spoon and have him or her rush to the candy, pick some up on the spoon, carry it back and empty it into the stocking. The first team to empty all of the candy into its stocking wins.
Frosty's snowball toss: Cut a hole in the center of a large piece of cardboard. Draw, paint or use magic markers to create a snowman on the cardboard around the hole. Using a popcorn ball or a small plastic bag filled with marshmallows, have children stand a few feet away and try to throw the "snowball" through the hole.
Gingerbread person decorating: This is a game that's not so much competition as all-out good fun! Bake gingerbread men and women (or buy them premade but not frosted). Set out icing/frosting and edible decorations so each child can decorate a gingerbread person.
Christmas word scramble: Take a common Christmas word or phrase (I.E., "Rudolph the Red-Nosed Reindeer") and have children sit down with pencils and paper. Set a timer for three minutes and have them write as many words from the letters as they can. The winner receives a small prize (a candy cane or small toy).
It's Showtime
As a background, have a CD of your favorite holiday songs playing, or show children's Christmas movies. Try A Christmas Story, Santa Claus is Coming to Town, A Charlie Brown Christmas, Frosty the Snowman, Rudolph the Red-Nosed Reindeer and others.
Have a "drawing" by randomly choosing one name from folded slips of paper in a bowl and have the winner choose the first movie. During down time, kids will love your cozy couch, some yummy treats and a good old-fashioned movie favorite.
Merry Christmas!