Join the Party!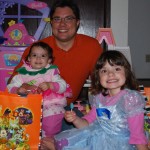 Editor Chris Molnar and his two party goers
Bring the party to your inbox! Simply sign up below, and we will deliver exciting party tips, about once a month. You can look forward to the following:
Feature party theme ideas for your next party
Money saving decorating tips
Party ideas, recipes, crafts and tidbits
Member questions and answers
Exclusive contests, coupons and more!
Just simply fill in your name and email address, and click "Join Now!"
Of course, I will never sell your email address or have it be used by any third party. I only use your email address to send you issues of my newsletter. You may unsubscribe at any time.