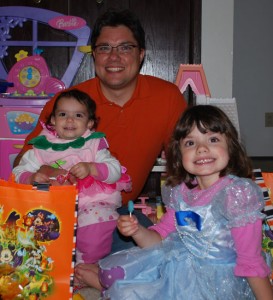 Thanks for visiting Themeaparty.com! We're all about helping you plan and create your memorable events for friends and family members – birthdays, Christmas parties, Halloween, baby showers and any other celebration.
Can't think of a fun theme for your party? We have hundreds to choose from and purchase online, with easy ideas to help fill out the theme you choose, such as matching decor, gift bags, games, recipes and more. Our contributing party experts are always thinking of new themes and ideas to help you plan your next celebration, so sign up for updates and our monthly newsletter for new, exciting and neat ideas!
---
Themeaparty.com is owned and edited by Chris Molnar (that's me with my two daughters last Halloween), a graphic designer and full-time Dad who always has to think of creative ways to keep his two rambunctious toddlers entertained. I graduated with a B.A. in English and Medieval History, which tells you how out of touch I am with the reality of the working world. (So, err, I earned a web design degree.) After teaching English in Korea and a decade in a variety of corporate cubicles (one of them a converted closet), I now make a living writing online.
What got into a website on parties? Just like you, I love parties, and I've been hosting or planning them for over 15 years. From small house parties to helping plan a Halloween social for over 500 guests, I've been involved in everything from invites to party layouts for the easy flow of guests, making snacks on the fly and planning games and activities. I've held parties so successful they were talked about years afterward, and some failures (never, ever microwave burgers after running out of barbecue propane!) My writing contributors and "circle of expertise" includes wedding and travel consultants, a professional chef, two amazing decorators and, of course, my awesome wife and two party-loving children!
If you enjoy the party ideas and suggestions on this site, the supplies you purchase from the ads or product listings here help me and my contributors earn a living, and I thank you very much for this. I make sure all content is of the highest quality so that you're not wasting your time (I hate that myself!), and the merchants I've partnered with are the best in the business. You can learn more in our Disclosure. Feel free to contact me at [email protected]. I love feedback almost as much as I love putting food on the table!
Contributors
Would you like to contribute a party theme idea? Please view our contribution guidelines for more information.